After coming here for so many years, we are still in awe of the wonder that is LAKE POWELL!
We love summer and summer brings rolling monsoon thunderstorms. We have gone through many thunderstorms at Lake Powell over the years. They are a constant source of beauty with electric lightning displays and ground shaking thunder (not to mention the most incredible cloud formations you have ever seen). The clouds seem to glow red and pink, getting their color from the red rocks throughout the area and the waterfalls that cascade down the red cliffs are awe inspiring!
However, with every thunderstorm, comes flash floods, high winds, white caps on the water and just plain bad lake conditions. This means…NO LAKE. We spent many days in the RV riding out gusting winds, dust storms and flooding, just waiting for the sky to open up and the sun to shine again.
We've nestled in to Page quite nicely and even met some new friends at the First Baptist Church of Page, AZ! What an awesome group of people who have graciously welcomed us into the church, their homes for BBQ's, outreach missions and they even went out on the boat with us AND we even did a mountain camping adventure with them! Our kids hit it off from the start and are instant friends now! We feel so lucky to have met and shared memories with these God fearing and loving people!
Our Yamaha AR230 is running like a top up here in Lake Powell and we have been able to enjoy some of the most spectacular sunset displays on the water, all while cruising "our lake", visiting the exact GPS location of our wedding, getting some tubing and swimming in, and just taking in the beauty of God's creation.
We launched out of both Wawheap Marina and Antelope Point Marina and we always enjoy a good wood fire pizza (with oozing gouda cheese) at the largest floating restaurant down at Antelope Point Marina. Walking the docks and marina is always a fun day excursion too! We had so much fun checking out the names of the houseboats (little one's favorites were the "Enterprise" and "#MFJ"- which stood for "Mandatory Family Joy"). We had to pick our jaws up off the floor when we saw the Adonia Yachts. It is a three+ story houseboat/yacht that is a massive floating "village". When we saw it, I joked that it was more than just a houseboat, it was more like a "village boat" and now that is the running family joke 🙂
We've been getting a lot of questions through social media and our YouTube channel about the lake levels and how low they are. Since we have been coming to Lake Powell for many years, we have seen the lake levels rise and decline and each year we visit, it's like a whole new lake. Past camp spots would be completely submerged 30 feet down and sometimes there are new islands and solid land masses where there was only water the last time. The lake is lower this year, but that does also mean a lot sandy beaches are now uncovered, making it a houseboat paradise! It's interesting to see the lake at all levels, but it still would be a dream to see it "full pool" one day.
There is something so magical and calming about this place and it never gets old for us! Can't it just stay summer forever so we don't have to leave?
Brace yourself, this is the most picturesque place we know…thus explains all the epic photos below 🙂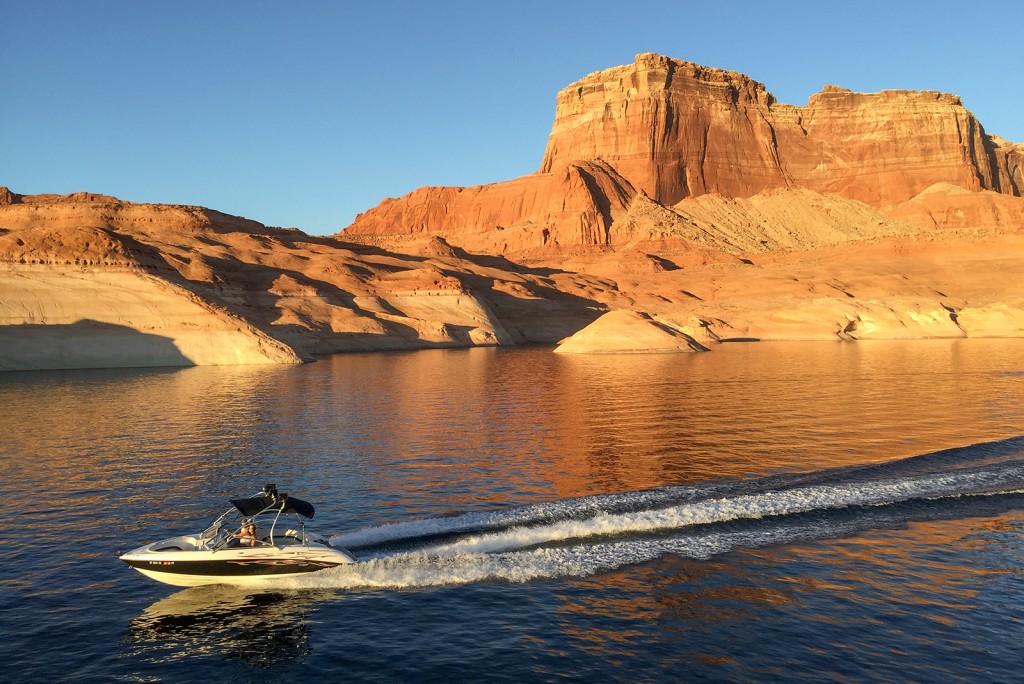 I climbed ashore to get this awesome sunset shot in Face Canyon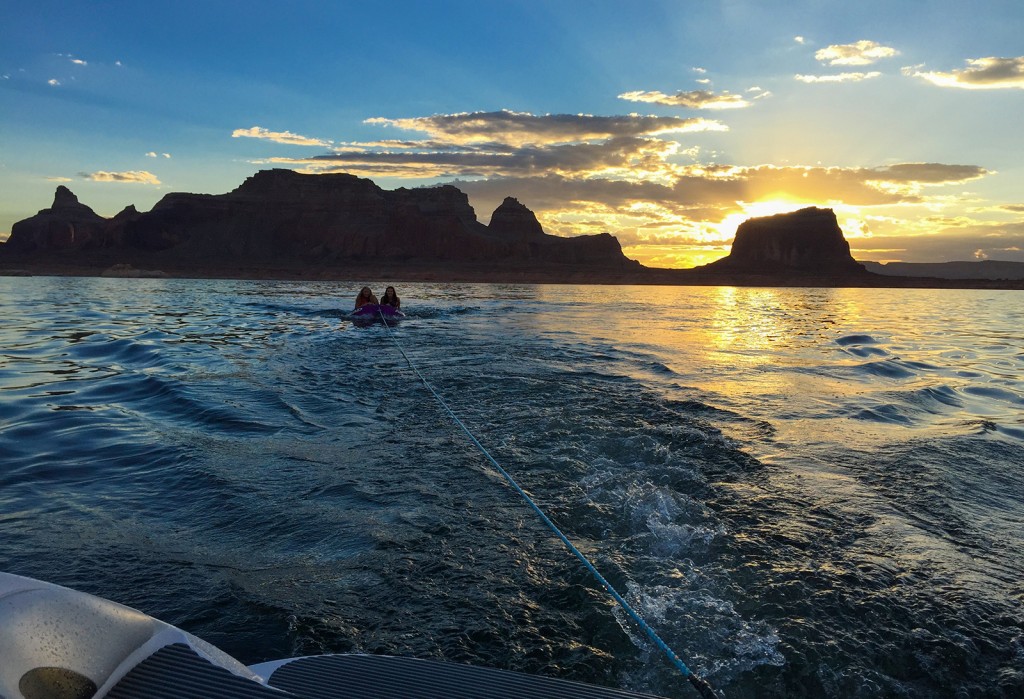 Even the momma's got in on some sunset tubing! I was laughing so hard it was difficult to hang on!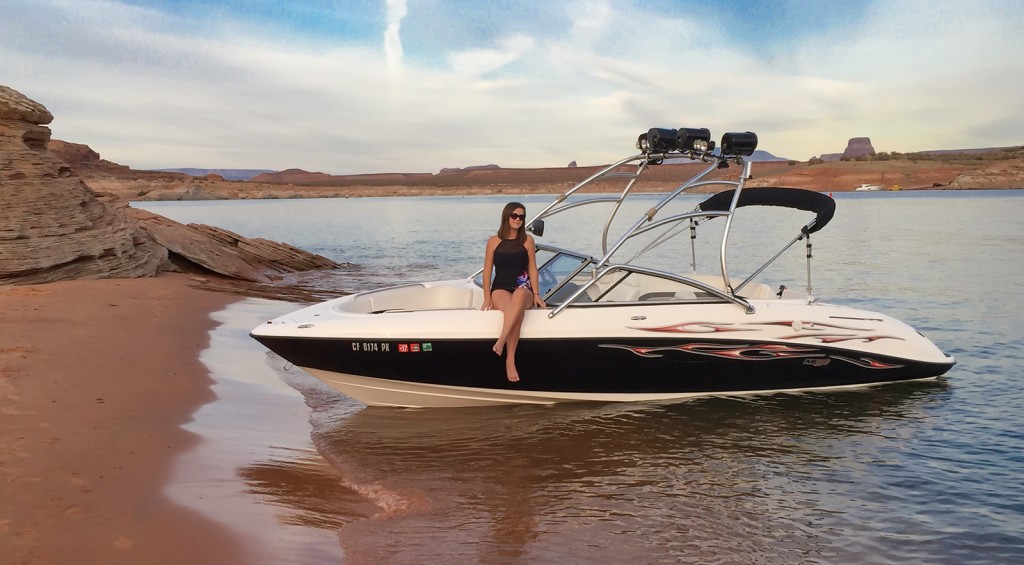 When did this girl grow up? Such a beauty, enjoy the beauty around her in Antelope Canyon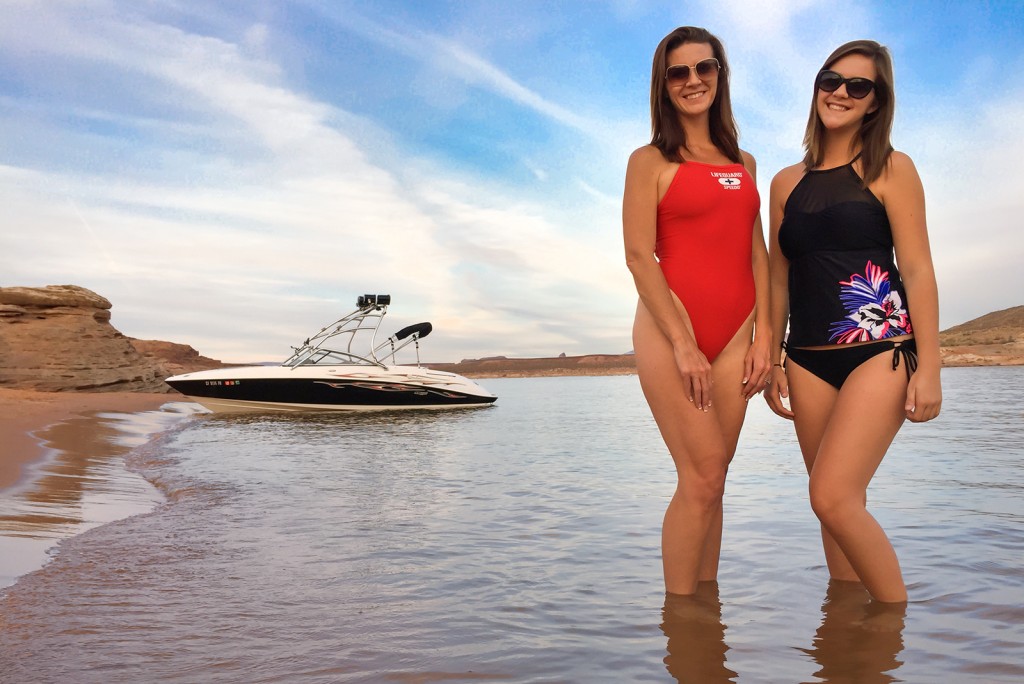 Like mother, like daughter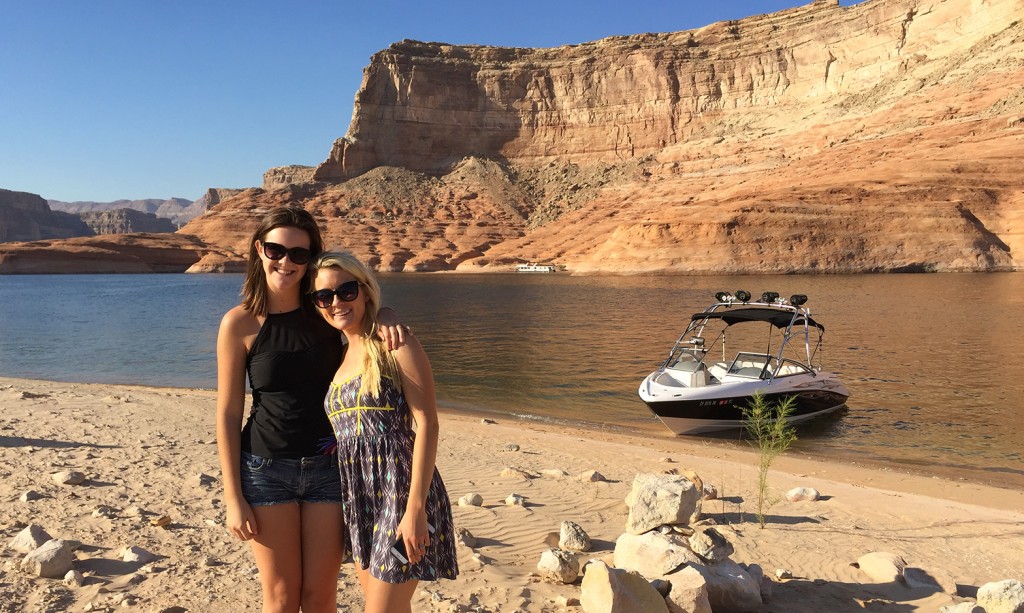 Enjoying another beautiful day on Lake Powell with one of our new friends- Hanging on a beach in Gunsight Canyon
Sunset glow over Padre Bay (we got married on this very bay)!
My mini me and I swam ashore to hike, climb and explore in Warm Creek Bay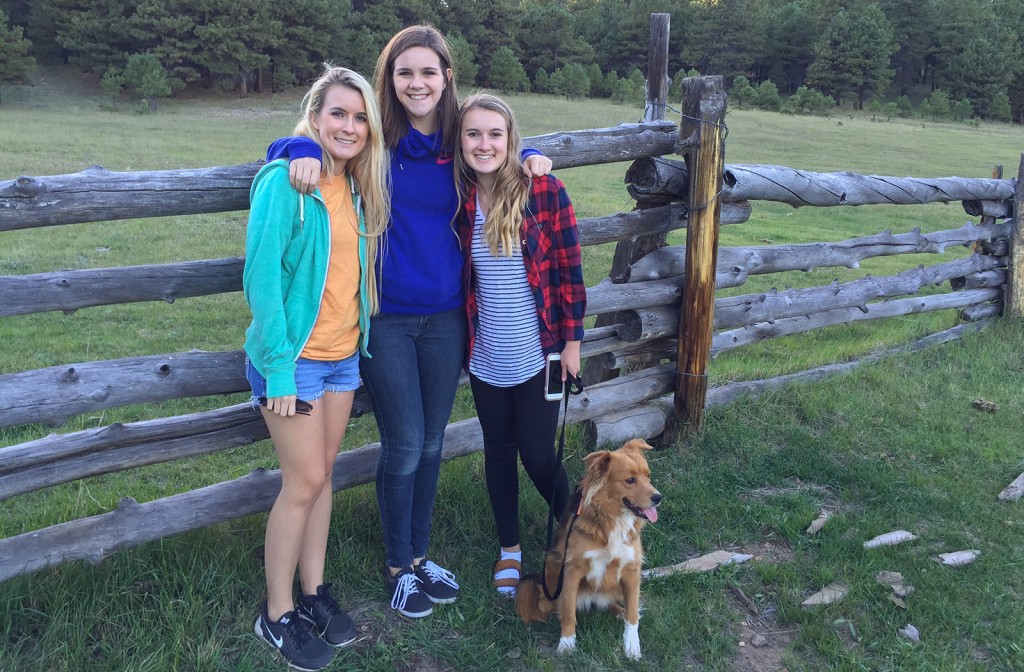 Camping trip up in Kaibab National Forest with these new friends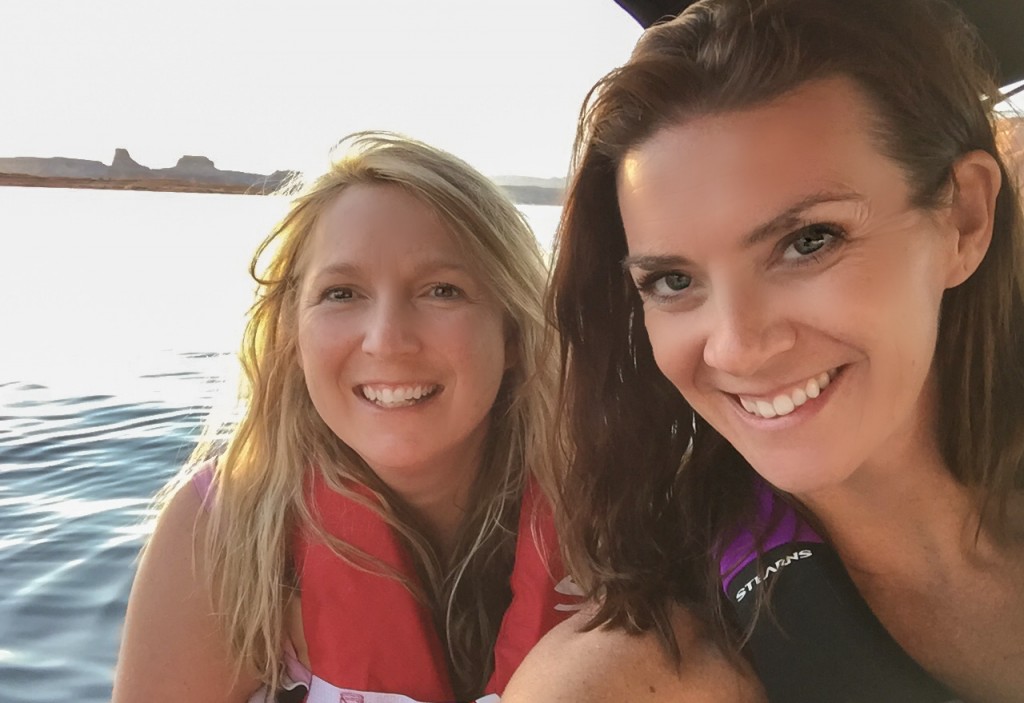 Our "before" shot- in preparation to go tubing outside West Canyon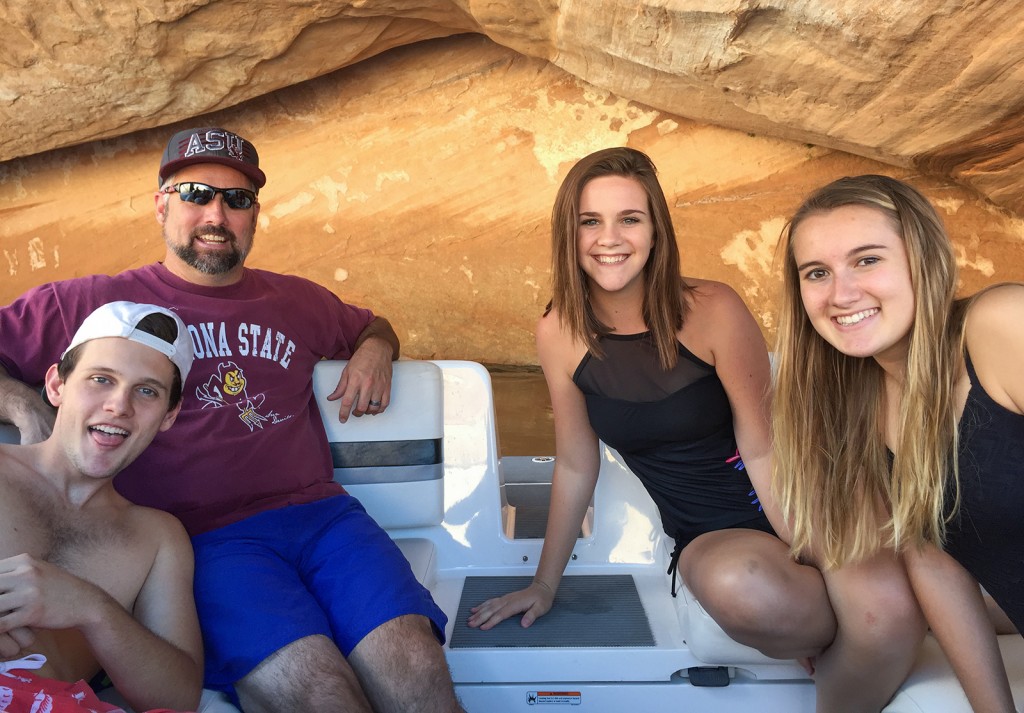 Hanging out under an alcove with this wonderful family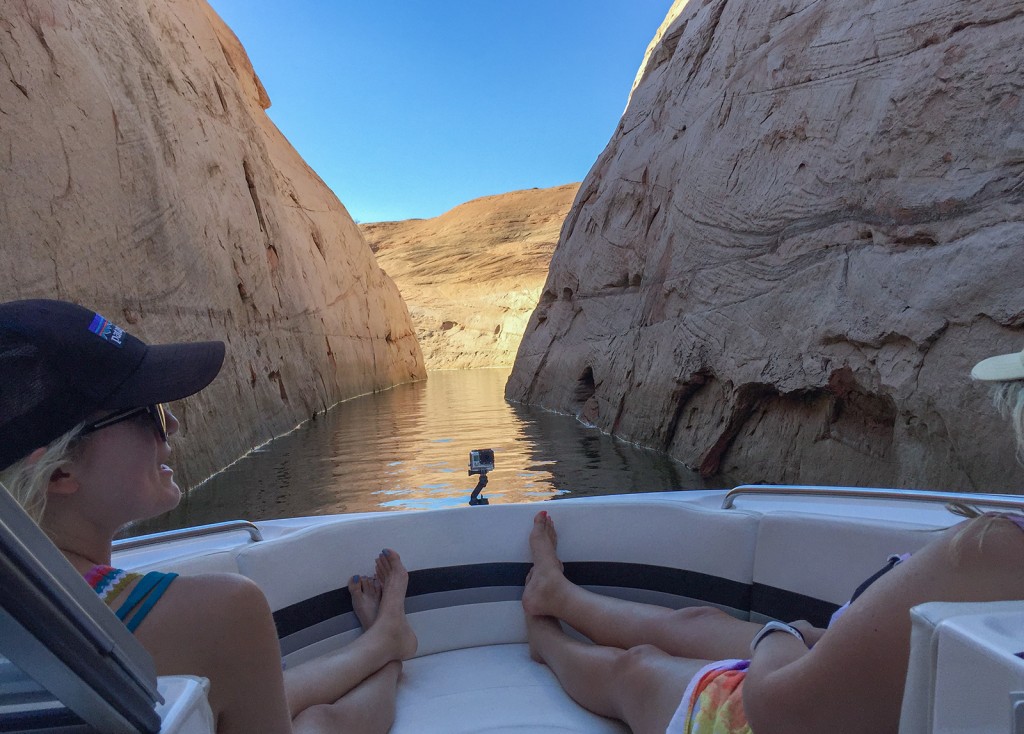 To quote Indiana Jones and the Last Crusade; "Go Between them, are you crazy?"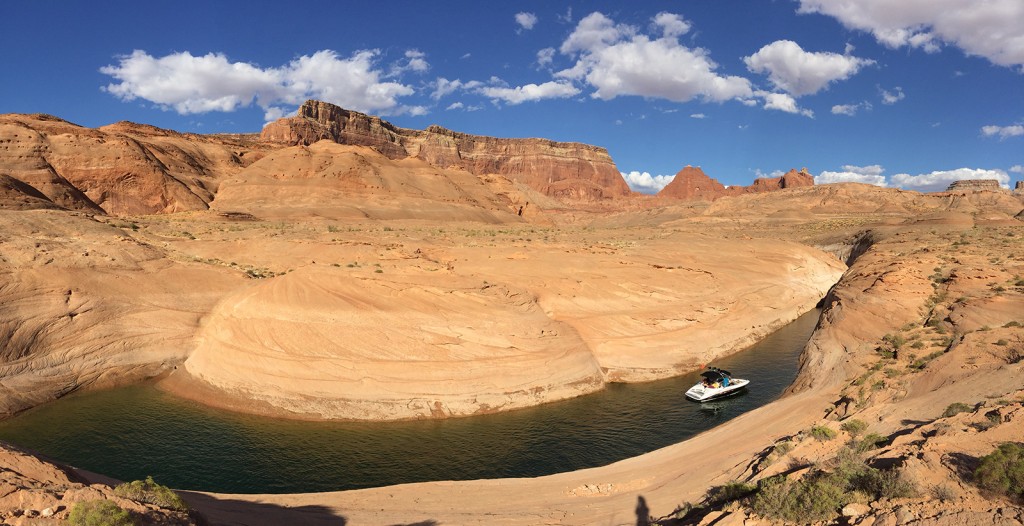 One of our favorite spots in West Canyon gives a great perspective of how narrow and far back these canyons go!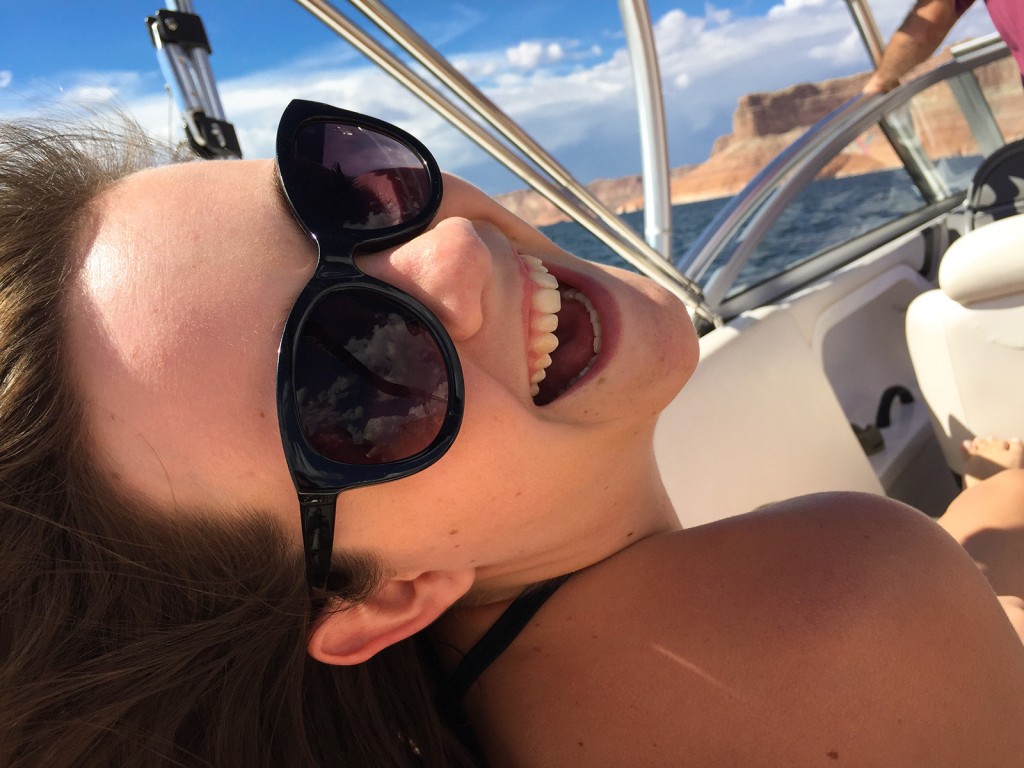 If this isn't the face of pure joy…I don't know what is 🙂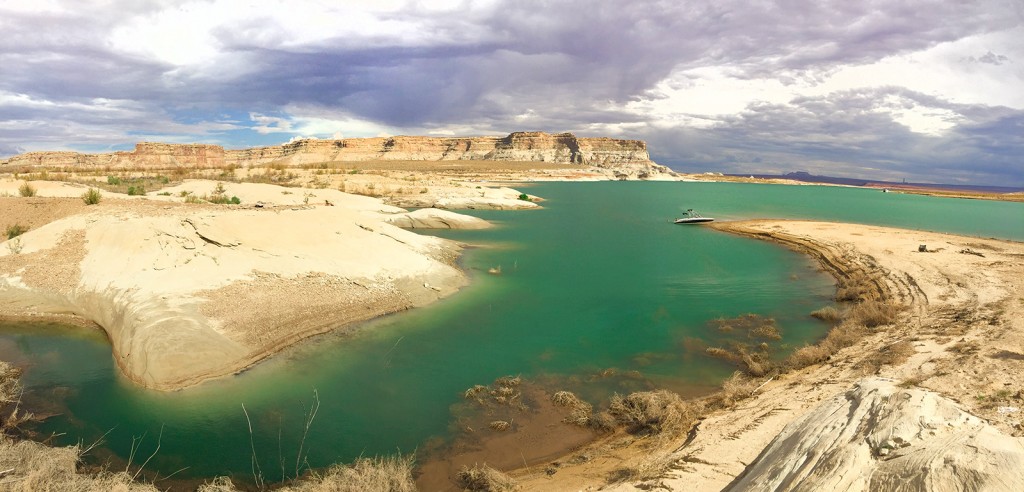 Watching a monsoon front blow in at our cove in Warm Creek Bay

Can you say grandiose?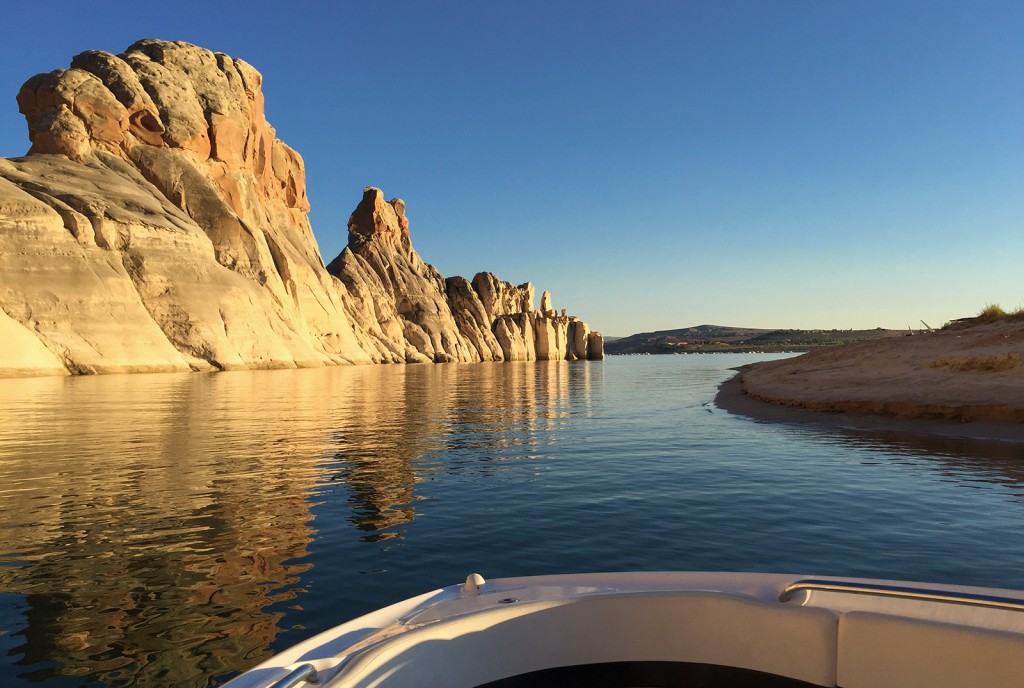 Motoring out of the Sand King area just across from Wahweap Marina we found these incredible natural "statues"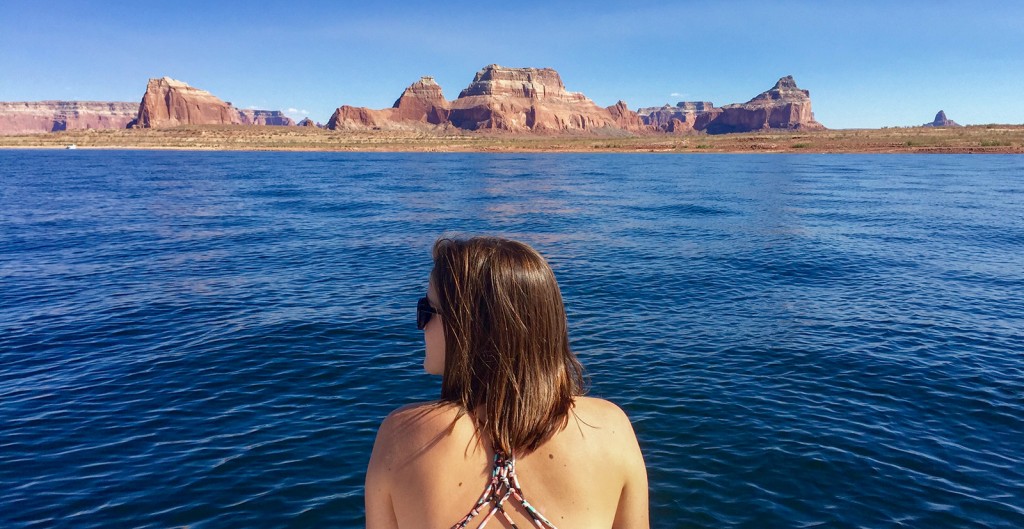 This was just about the exact GPS location of where we got married..taking it all in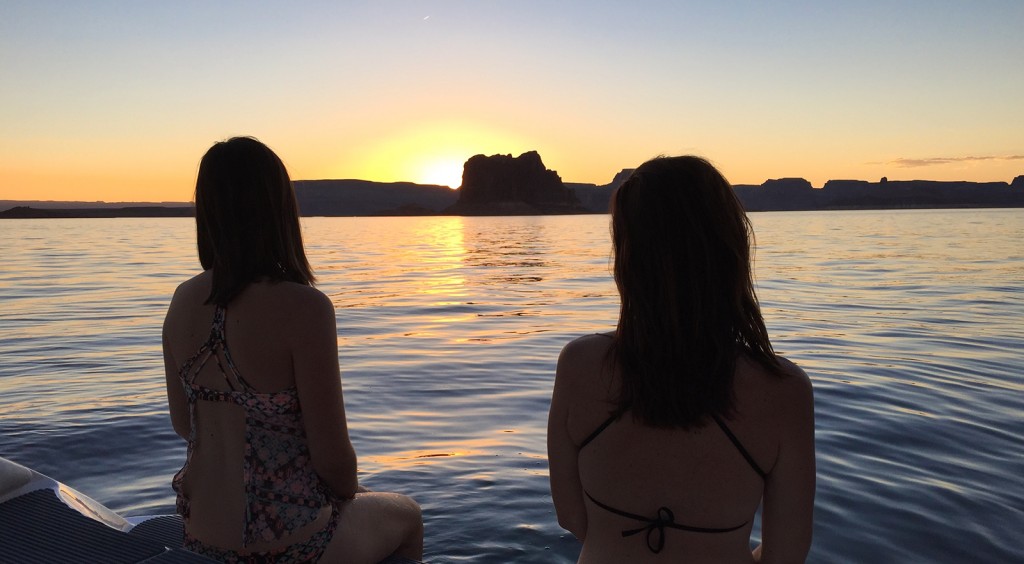 Sometimes you just have to stop and smell the sunsets 🙂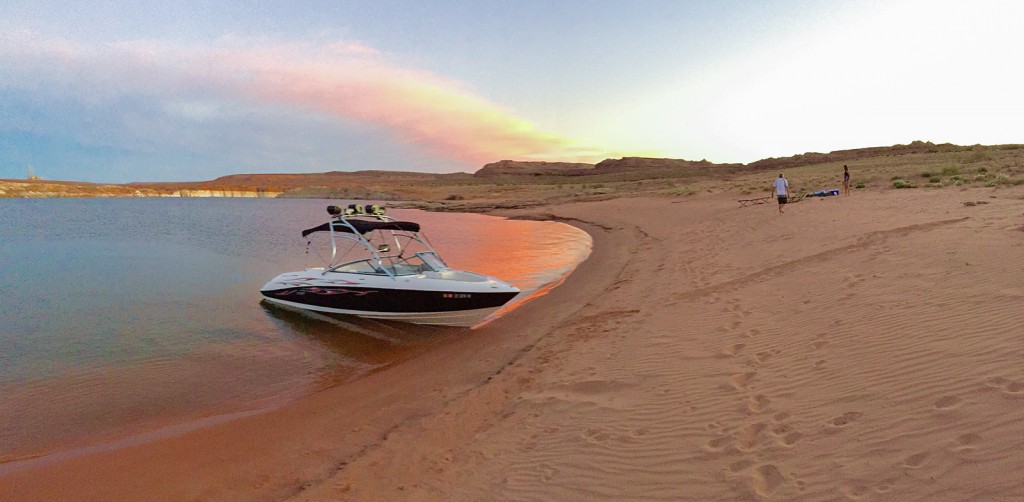 Colors, colors everywhere…where do I even begin with this one? Oh, and the sand was like a perfect soft powder!

The baby rock and her momma at Gunsight and Padre Bay entrance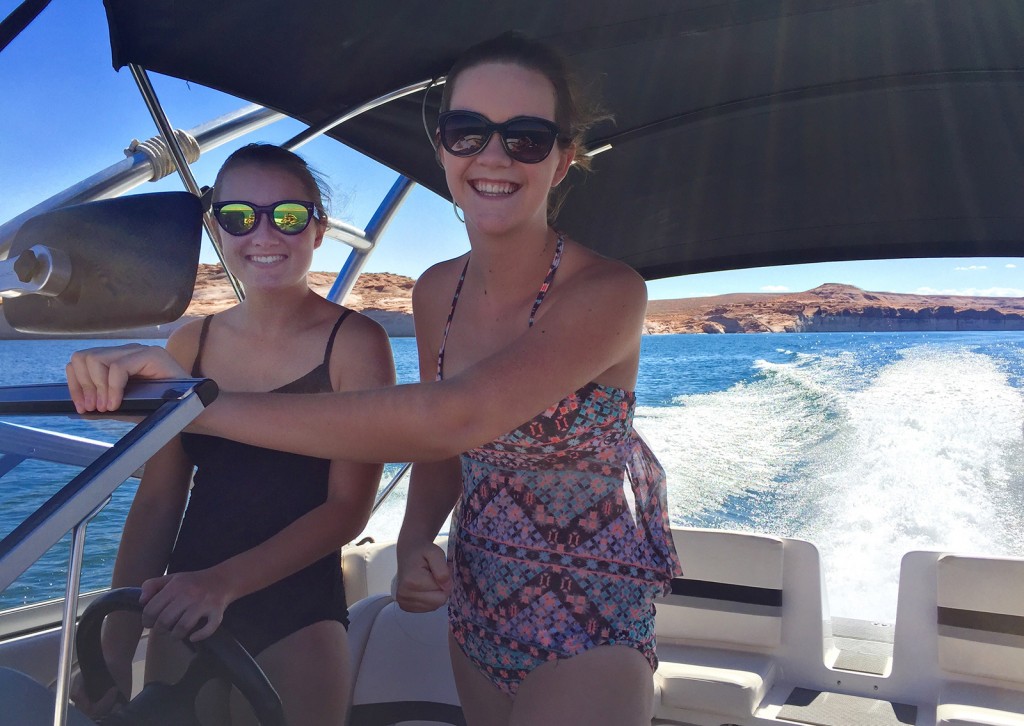 Uh-oh, we have a new Captain and Skipper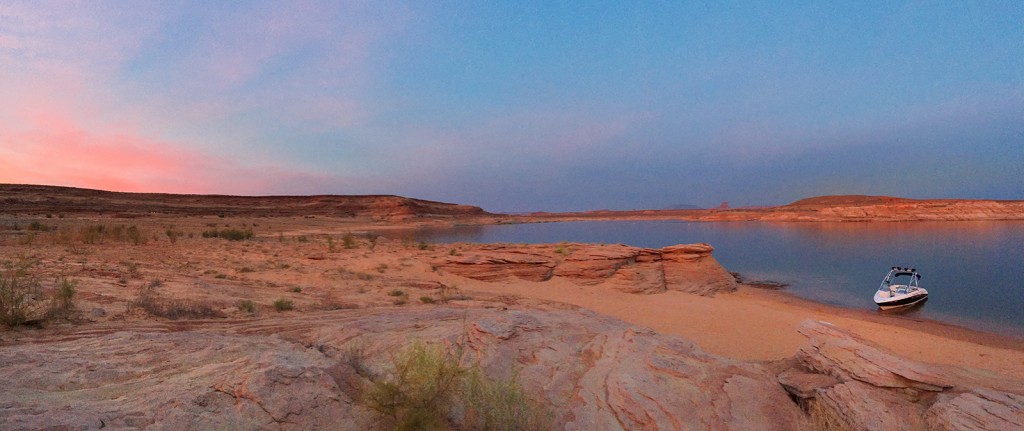 Speechless and in awe