Blue skies, wide open spaces, red rocks, rolling thunderstorms, dinosaurs and cinnamon rolls!?
Leaving Las Vegas we headed east into Southern Utah and we were treated with some exceptional thunderstorms, epic sunsets and the most picturesque red rock parks.
The drive from Las Vegas to St. George, Utah was an easy 2 hour trek that brought us up Interstate 15 and through the Virgin River crossing (which I always love). Just before you cross the river, the freeway looks like it is going to dead end at the mountain. You don't actually see where the freeway goes until you are right at the base of the mountain and river entrance. If you have never driven this route before, it is a little unsettling to look ahead and think you are going to crash into the mountain!
Luckily, we've done this drive many times before and I was sitting in anticipation of the upcoming scenery we would have crossing the Virgin River and going between the small mountain range. To quote my favorite Indiana Jones movie… "go between them, are you crazy"?!
The weather was perfect and we were just happy to arrive at an RV park before dark (first time ever for us)! The original park we settled on was St. George RV Park and Campground, but after two miserable nights at the park and dealing with an overtly rude and volatile park manager, we moved to Utah's newest state park, Sand Hollow. (We highly recommend not staying at the St. George RV Park and you can read more about our nightmare stay on multiple RV park review sites like "Yelp, Google and RVParkreviews.com).
On the plus side, if we had stayed at St. George campground, we never would have experienced the beauty of Sand Hollow State Park.
It may come as no surprise that we love state parks, but this one easily became one of our new favorites. It was clean, the sites were well spaced out (so we never felt like we were on top of our neighbors), we had 360 degree panoramic views, it was only $28 a night for full hookup and it was just plain pretty! Most state park campgrounds don't offer sewer hookups at the site, and Sand Hollow did, so we were even more pleased. This means we don't have to unhook and go dump our tanks every couple of days…much more convenient!
Most days we hung out at the park and our RV site, because the weather was perfect and we couldn't tear ourselves away from the amazing thunderstorms that rolled in one after another throughout the course of an entire day. The storms blew through sunset creating the most dazzling display of colors and continued well into dusk when the lightning would dance, crackle and light up the pitch black sky around us.
When we did venture out, we found a new love in town…..it's name was "Chuck-a-Rama". I don't know that words alone can properly explain our newfound love (or addiction), but I will do my best. "Chuck", is a magical place where they serve melt in your mouth cinnamon rolls that are drenched in heavenly honey butter and gooey hot cinnamon icing. Perfectly baked warm scones that were light and airy and smothered in honey and cinnamon butter. Oh ya, and they had a salad bar and other foods too…but come on…did you hear about the cinnamon rolls and scones?
My personal favorite was Pioneer Park. Located just above the city of St. George, this was no ordinary city or county park. There were no swings and no slides, but they had the most stunning red rocks that created a natural jungle gym. Perfect for climbing, clambering and exploring, this park was right up my alley! Of course, it was an impromptu visit and little one and I were dressed in skirts and flip flops, but the allure was too strong to pass up (so, we climbed those darn rocks anyway).
The view of St. George felt like we were flying above the city with a perfect birds eye view and the mini arches we discovered were begging to be photographed. It also helped that it was late in the afternoon, so the vibrancy of the red rocks were highlighted in the setting sun for us. Once we pulled ourselves off the rocks, we discovered picnic tables, hiking trails and small slot canyons that were etched with intricate textures as the sunlight barely breathed in through the narrow canyon walls.
If the call of Lake Powell wasn't so strong, surely we would stay and enjoy St. George and Hurriance a little longer.
For more information on the state park and RV campground in Hurricane/St. George, Utah go see our friends at Sand Hollow: https://stateparks.utah.gov/parks/sand-hollow/ and if you are ever in town, be sure to visit Pioneer Park https://www.sgcity.org/search/park.php and please, PLEASE have a perfect morsel of goodness at Chuck-a-Rama for us!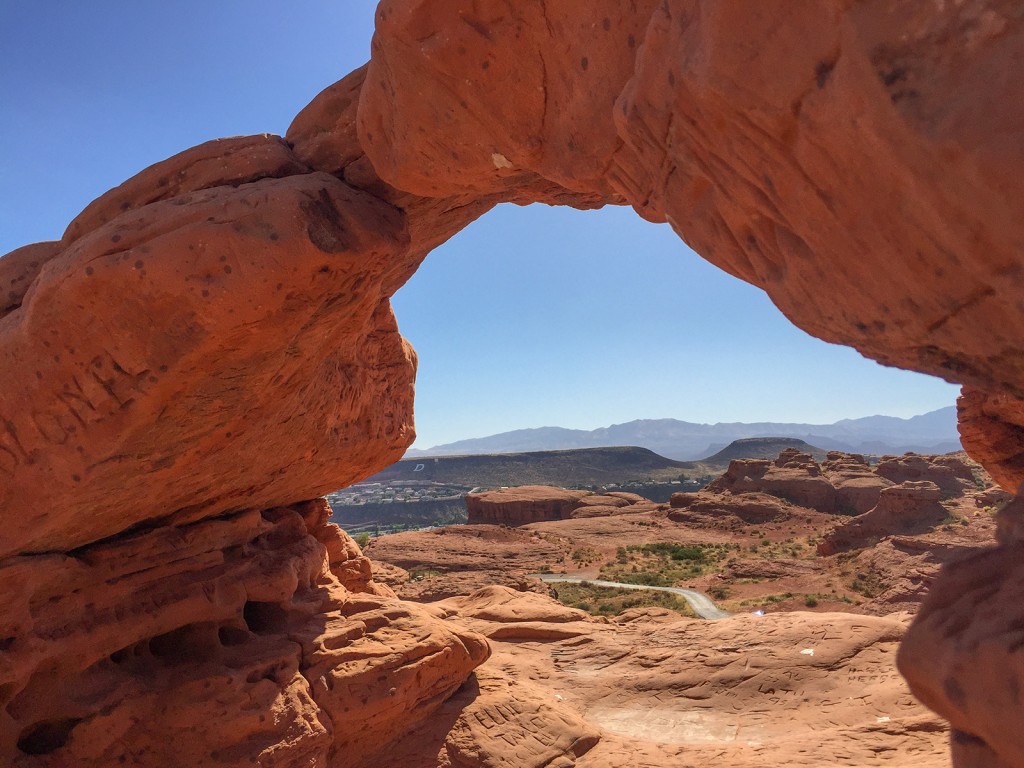 My favorite arch and view at Pioneer Park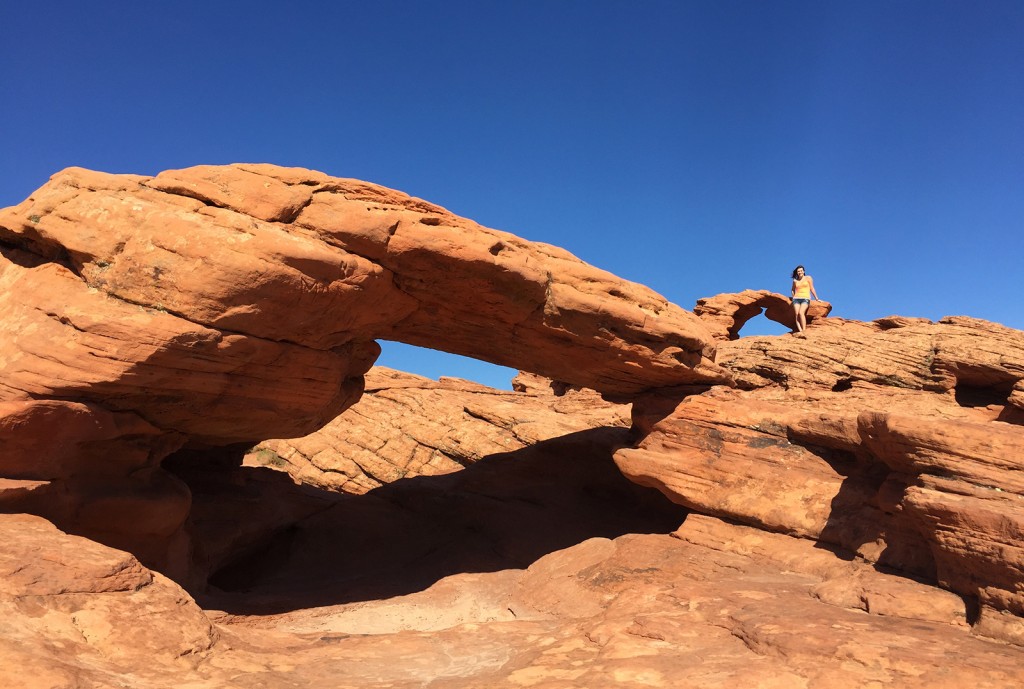 Little one blending with nature!

Check out that panoramic view of St. George, Utah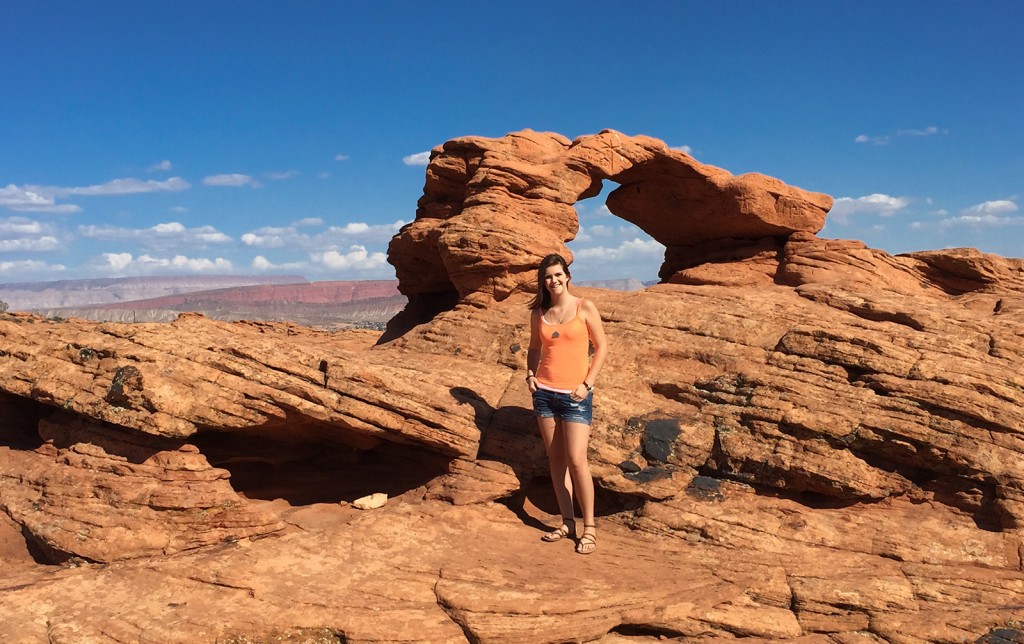 There is nothing like hiking boulders in sandals and flip flops!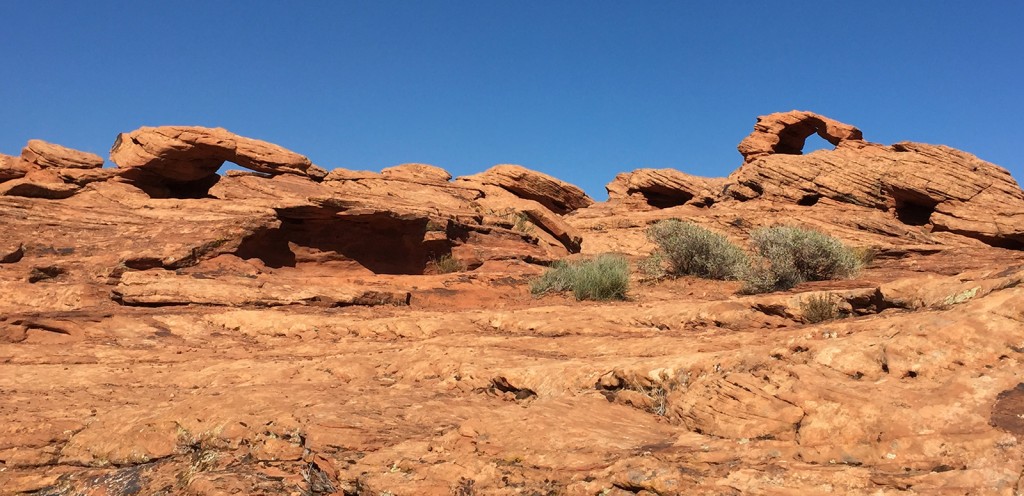 Red rocks against the blue sky create the perfect picture!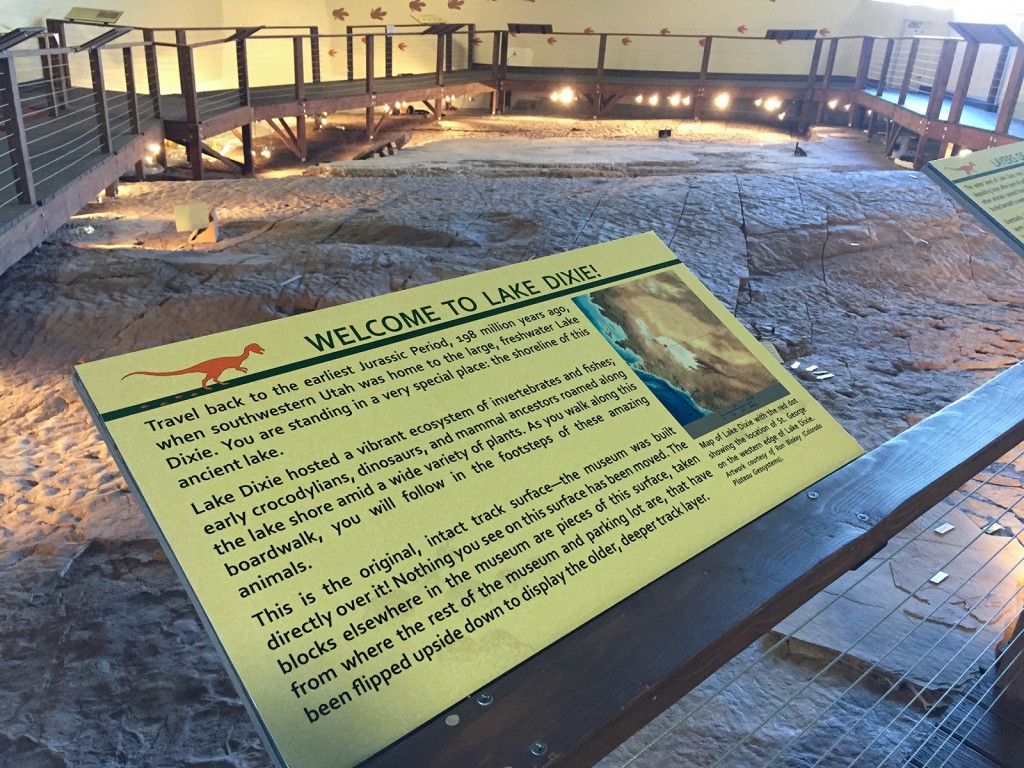 Welcome to the original site of Lake Dixie and dinosaur tracks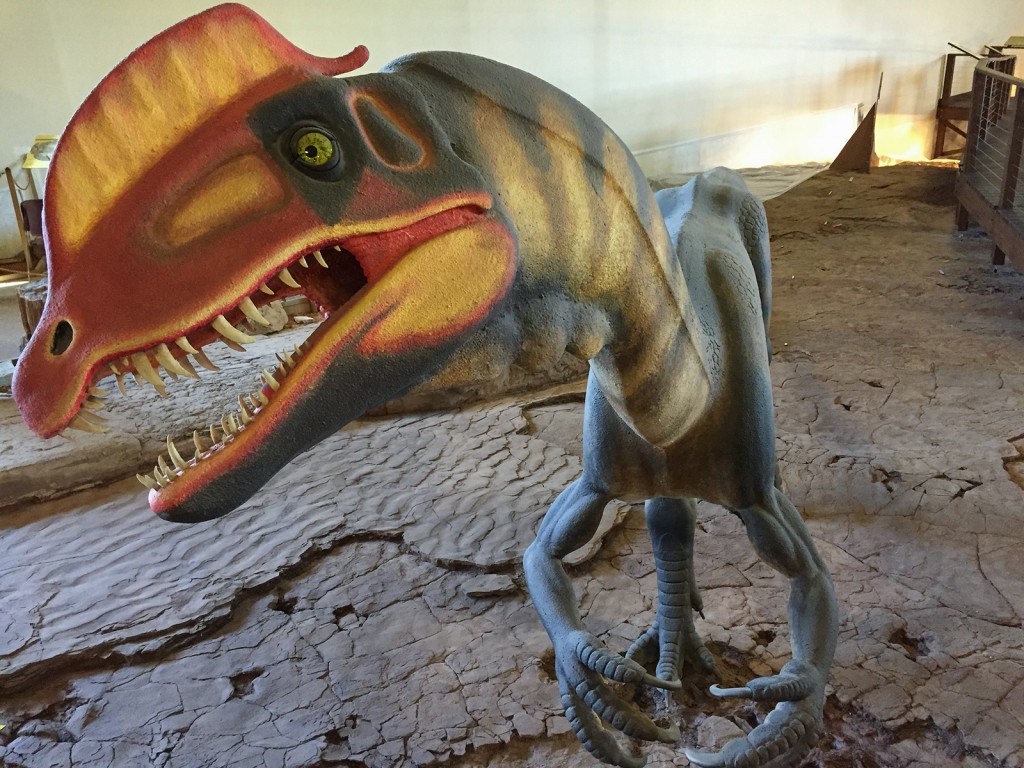 We always make friends with the locals, but this guy was a little too friendly 🙂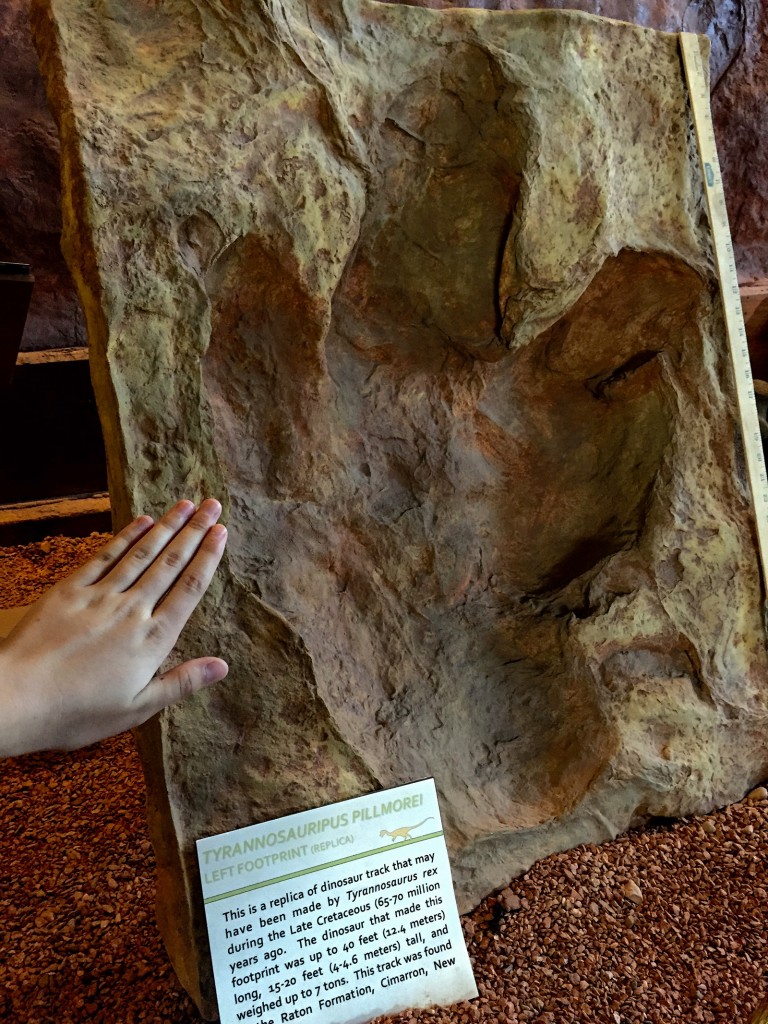 Actual T-Rex print compared to little one's hand shows just how massive this guy was!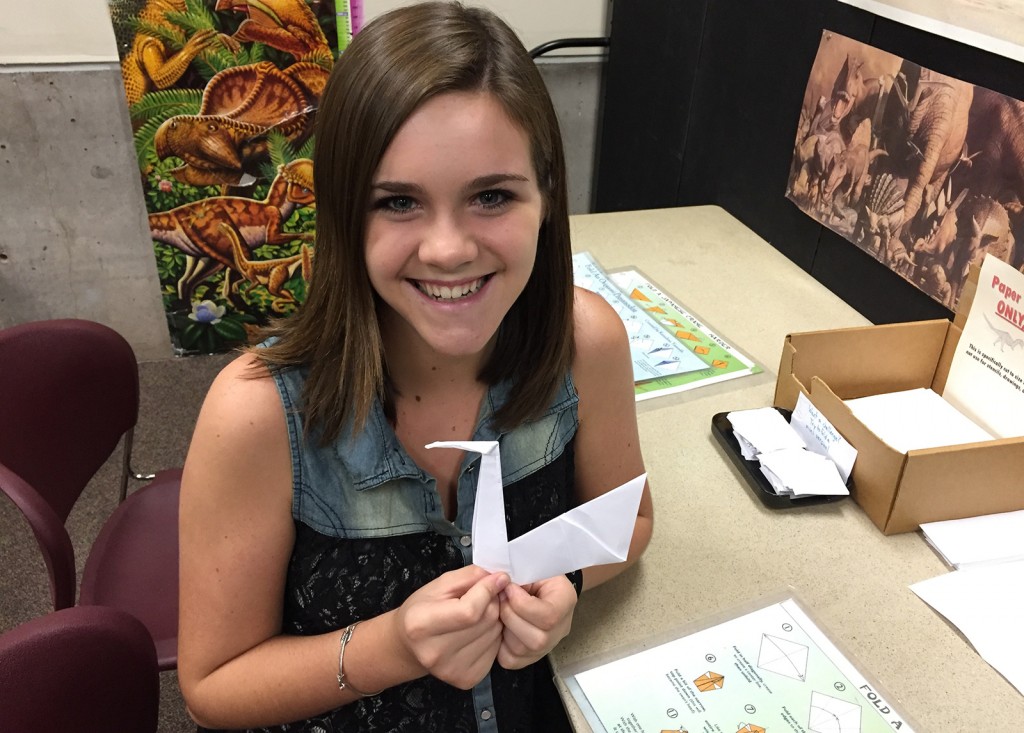 Her first attempt at origami- Affectionately named "ori-swani"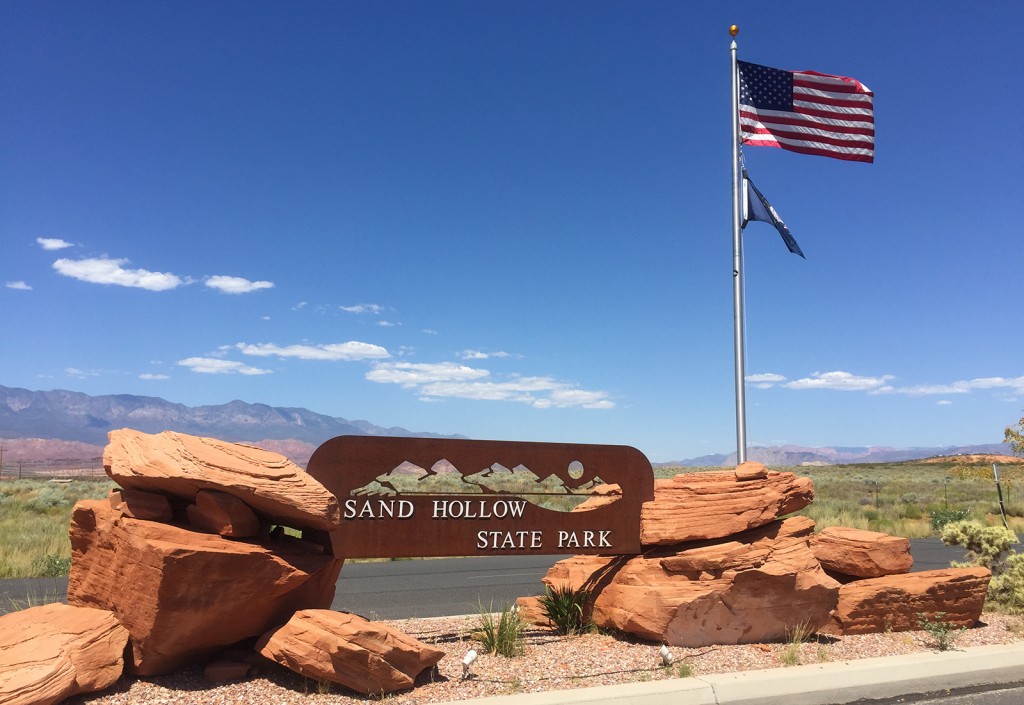 We loved Sand Hollow State Park in Southern Utah!!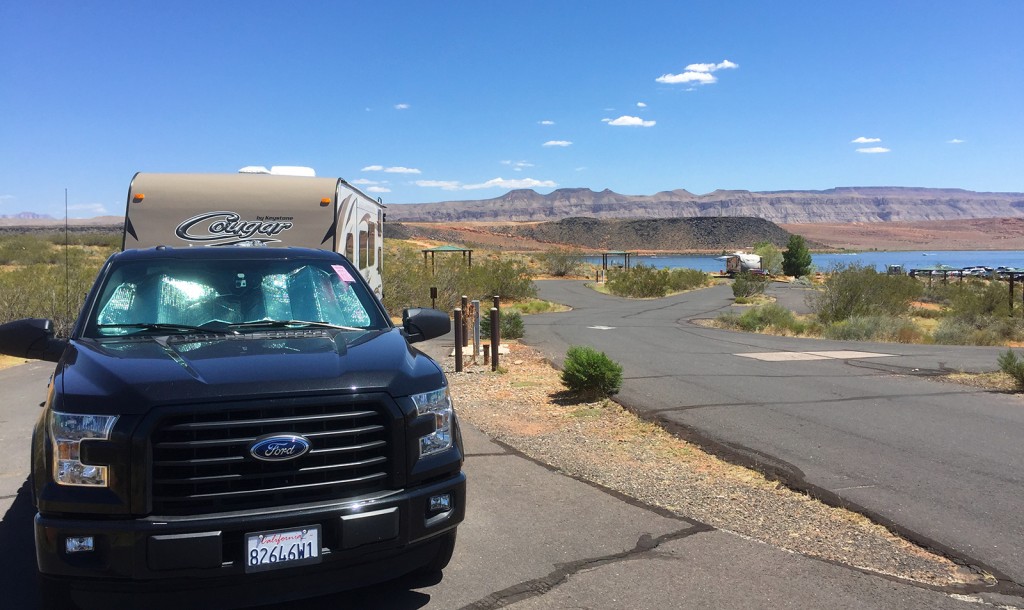 Can you see why we love this place? Check out this view!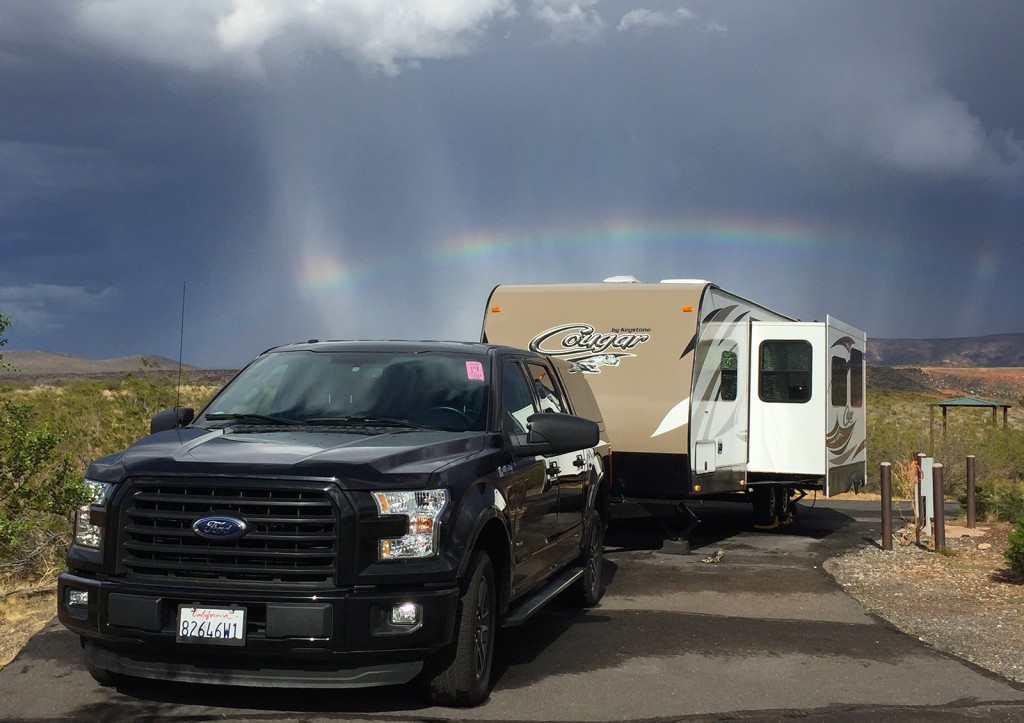 After every rain, is a rainbow (but not always right over our RV..how special)!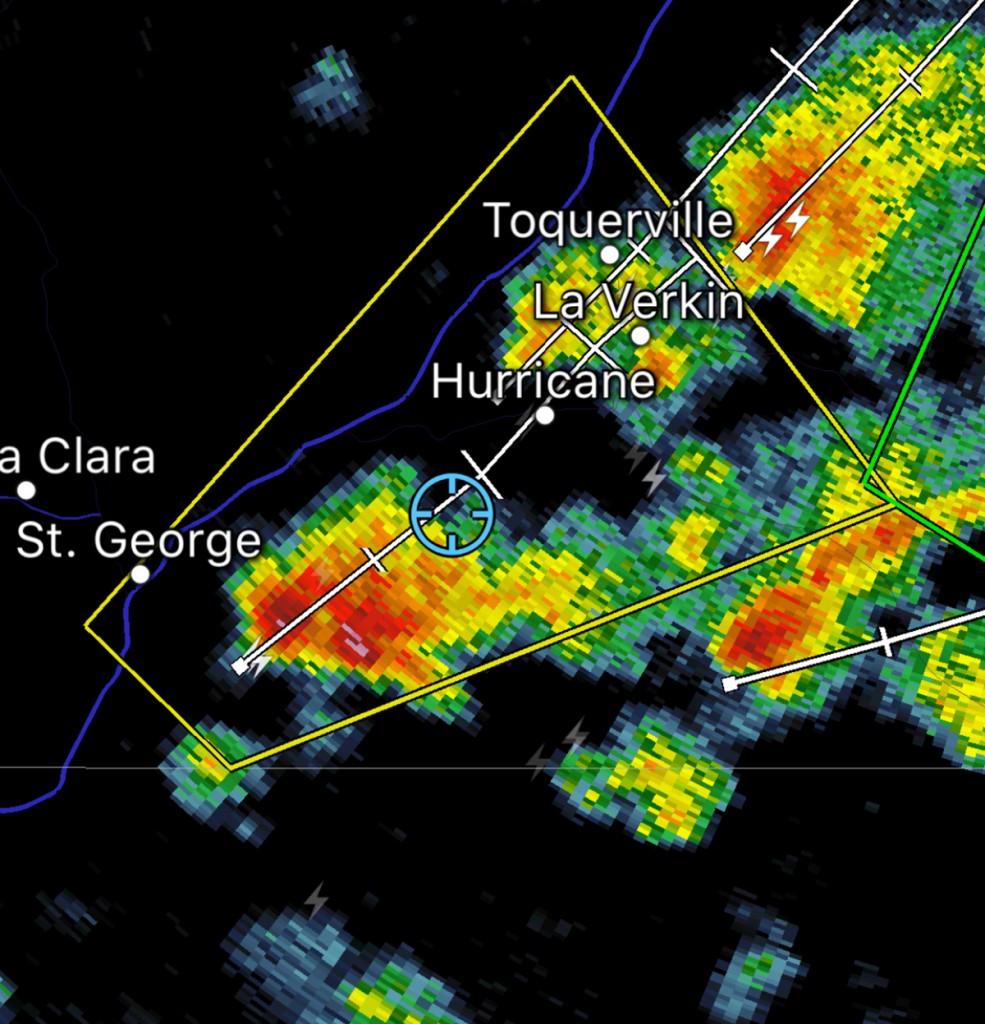 The blue circle was us…yep, we were right in the middle of that storm (and pink is a hail core)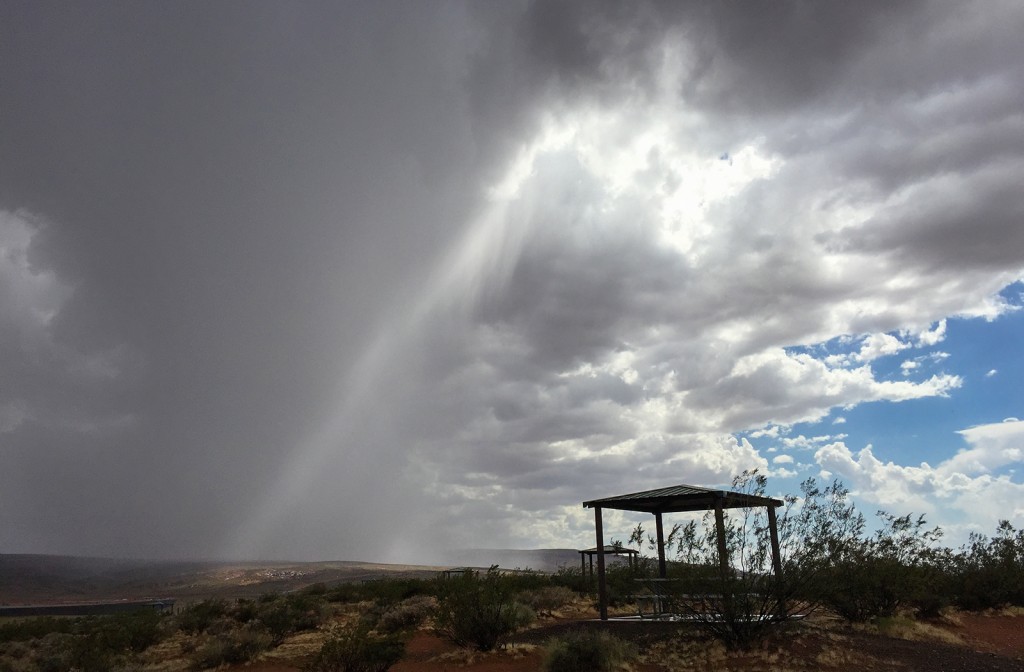 Wow! Check out those clouds and sun rays…magnificent!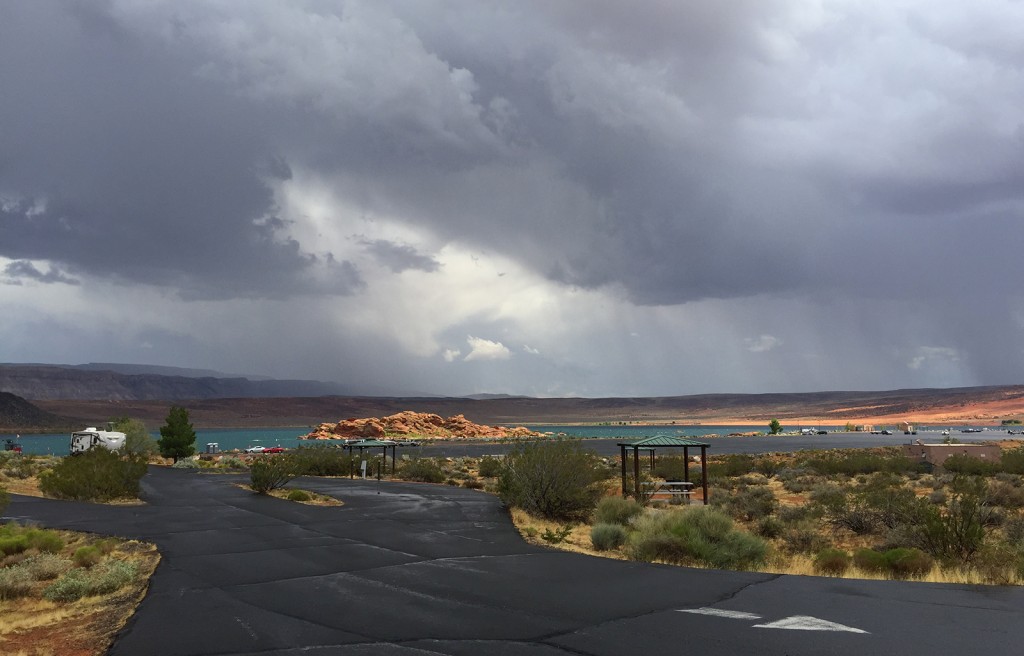 Rain falling on the reservoir in between storms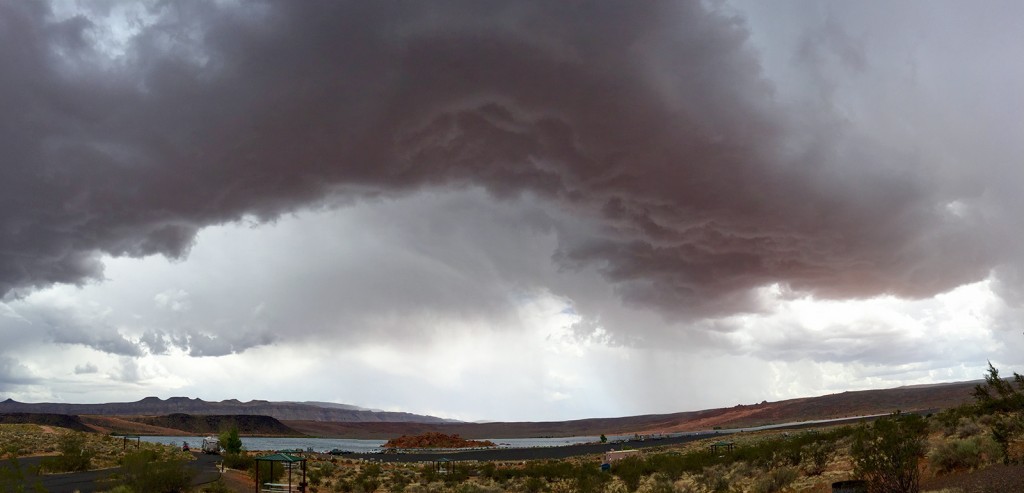 This monster is either trying to be a spaceship or a large intestine- either way, he's awesome!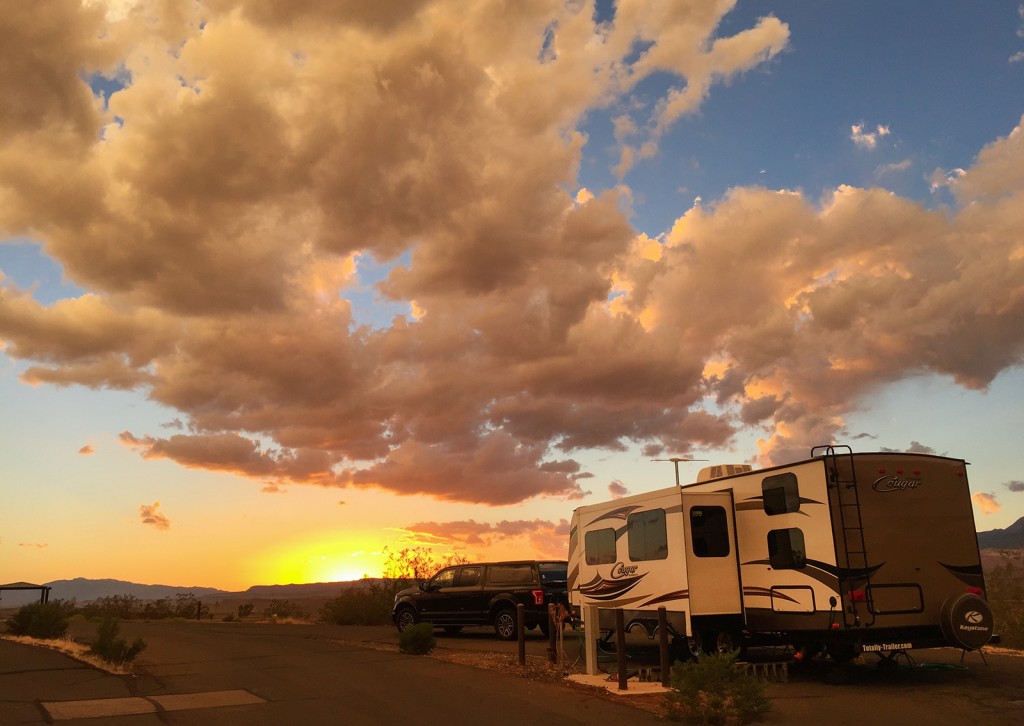 After all of that fun, look at this mesmerizing sunset we got to enjoy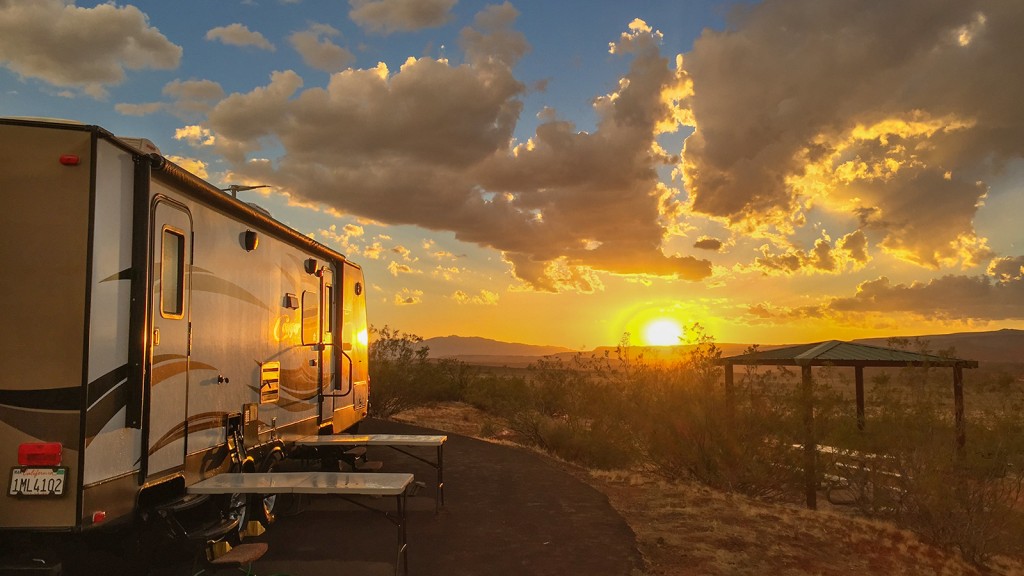 We feel like God's artwork was on perfect display here in Hurricane, Utah