What happens in Vegas, stays in Vegas (at least we hope so)!
We had a Chevy Suburban for 13 years and never had an accident or dent in the vehicle. We buy a brand new Ford F150 and within 4 months we had someone rear end us at a stoplight, the Ford dealer put a nasty gouge in the door (that they had to replace the whole door it was so bad) and a deer decided to run right into us.
Technically the deer committed a hit and run because he did some major damage to the passenger side of our vehicle and then took off!
In a nutshell, we were driving down the road on our way to our storage unit in Arizona (minding or own business) when a deer jumped out from the right side of the road and took out the passenger door, the skid plate, nerf bar, the rear passenger door and portions of the hood and right headlight. He also peed himself and left a lovely "splatter" along the entire right side of the truck.
Our insurance is taking care of the accident so we could have it fixed anywhere. So we went looking for a major metropolitan area with plenty of repair shops to choose from, a Thousand Trails RV park to hunker down in for a while and the ease of public transportation. Add it all up and that equals: Vegas Baby!
For those not familiar with Thousand Trails, it is an annual membership consisting of RV parks in various locations around the U.S. The maximum stay at any park is 14 days, which we assumed would give us plenty of time to fix our new truck.
Given that the new F150's are made of aluminum, this presented new challenges and delays since we had to find an aluminum certified shop, an insurance approved shop and a Ford certified shop. An aluminum body was a nice feature that Ford added and is much lighter in weight; the downside is that repairs are very costly and many places aren't certified to work on aluminum and the parts are hard to come by.
It also doesn't help that the auto repair shop dropped the ball for 5 days, leaving us stranded in Vegas without a tow vehicle (our insurance didn't cover a rental) during a massive heat wave. The RV park was under construction and their pool was out of order, so we made do with our folding chairs and a mister and survived the 117 degree weather. To give you an idea, it was so hot outside that the heat melted the base of our mister!
We overstayed our welcome at Thousand Trails and were forced to stay longer than the 14 days due to the screw up at the auto shop. But we did meet some awesome folks at the campground and saw a whole different side of Vegas (including the scariest Walmart in Vegas, according to the Walmart employees and managers).
We did manage to get a rental car for a few days that was pulled out of a cereal box especially for us. We had to pedal it to get it over 45 mph and we thought for sure it would go into a whiffle ball spin on the freeway. We joked about it being our new tow vehicle, but we are pretty sure it was just the Vegas heat getting to us.
As our fridge continued not to work and our truck was at the shop for three weeks, the insurance guy told us that, "it was probably time for us to leave Las Vegas", we just hope that what happened in Vegas, stays in Vegas!
Don't get us wrong, it's not all doom and gloom over here in Totally Trailer-ville though….Our neighbors in Vegas are an awesome group! We were serenaded by a deaf fellow who plays guitar and sings for local retirement homes and Alzheimer patients. Dick said he doesn't hear music, he "FEELS" it. Such an amazing man with a wonderful sense of humor and great outlook on life (not to mention, he has a ton of great stories to share and knows over 500 songs)! The staff at Thousand Trails is equally delightful from Paolo at the front gate who was always bringing us ice (because we are stuck with using coolers instead of a fridge), to the manager Deb, who was sassy and kind (and let us stay beyond the 14 day max…mostly because it would have been difficult to kick us out without a tow vehicle). One of our neighbors even offered for us to borrow their extra car while the truck was in the shop!
And lets not forget all of the yummy buffets that surrounded us here in Vegas. Our hats off to the endless supply of buffet food (that went straight to our hips, I'm sure) and the numerous Walmarts that kept us busy.
Everyday is truly a new adventure and every destination has a new story to tell; and we wouldn't have it any other way 🙂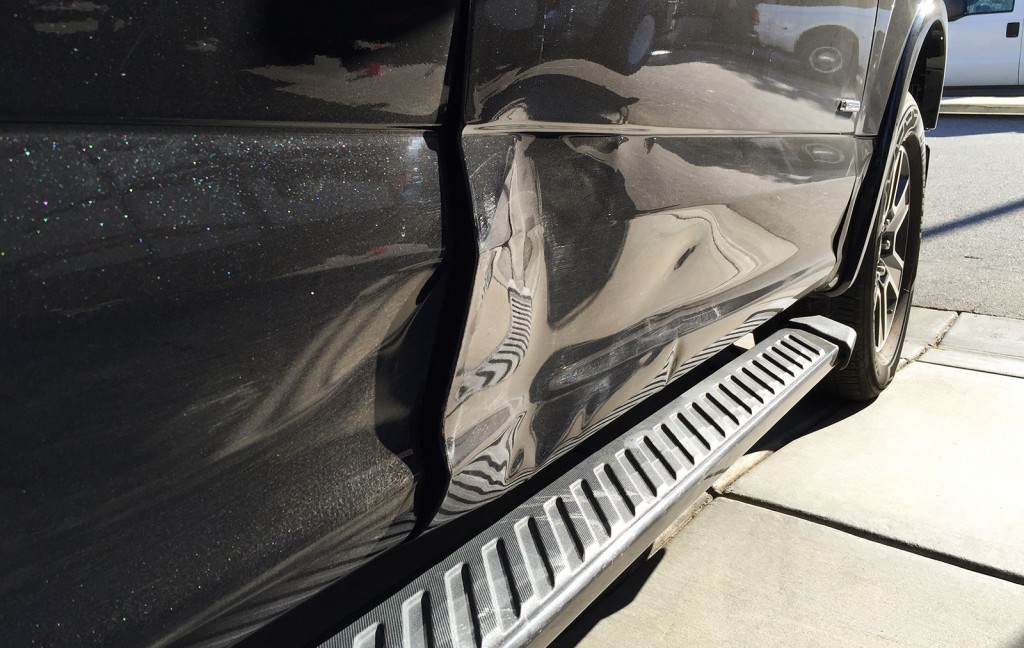 The darn deer dent on passenger side door of our F150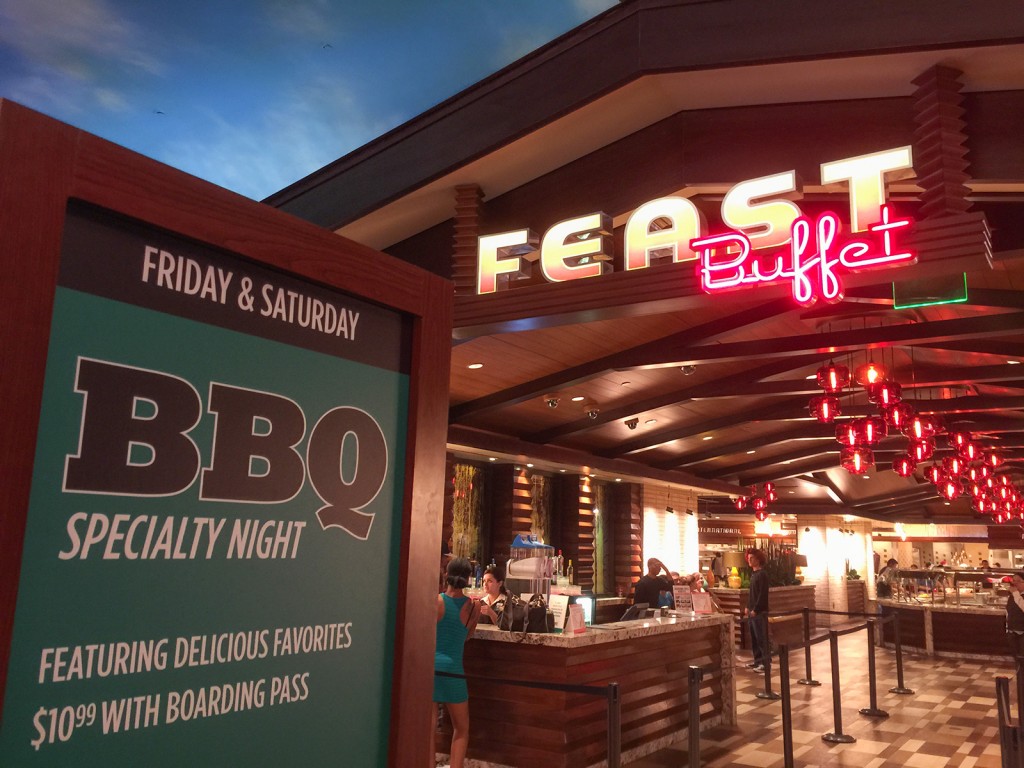 The Feast Buffets in Las Vegas (some yummy, some..not so much)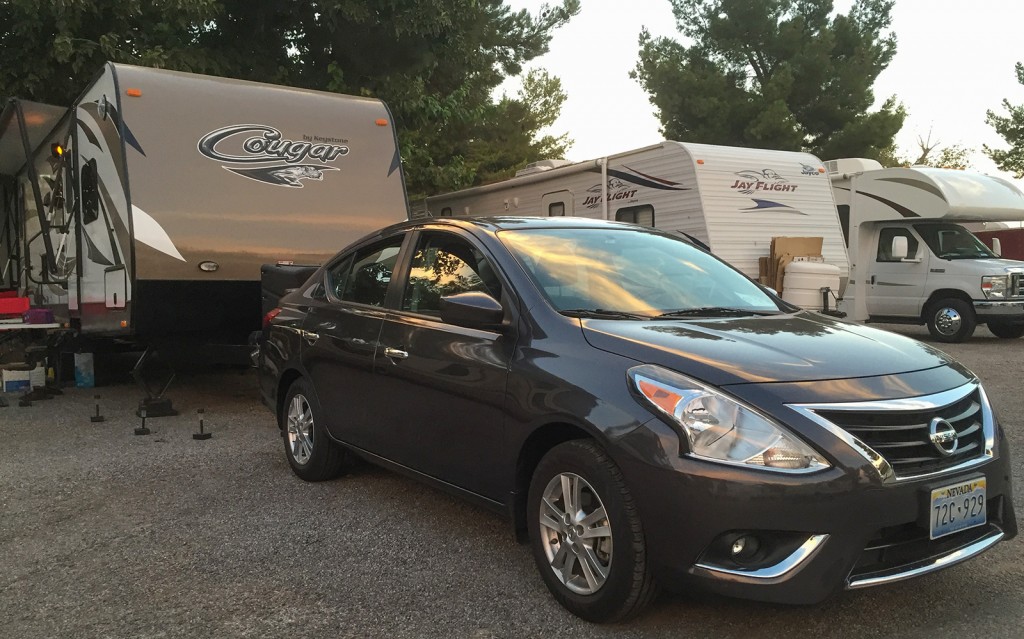 Our new "tow vehicle"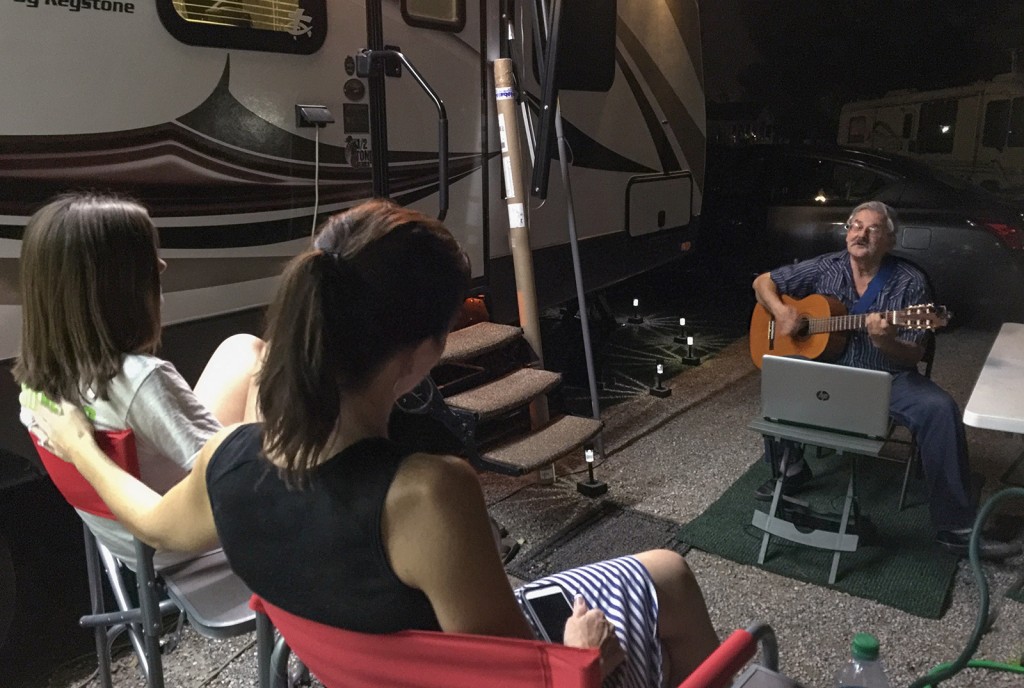 Being serenaded by Dick and enjoying "you are my sunshine" (which I sang to Haley when she was a baby)!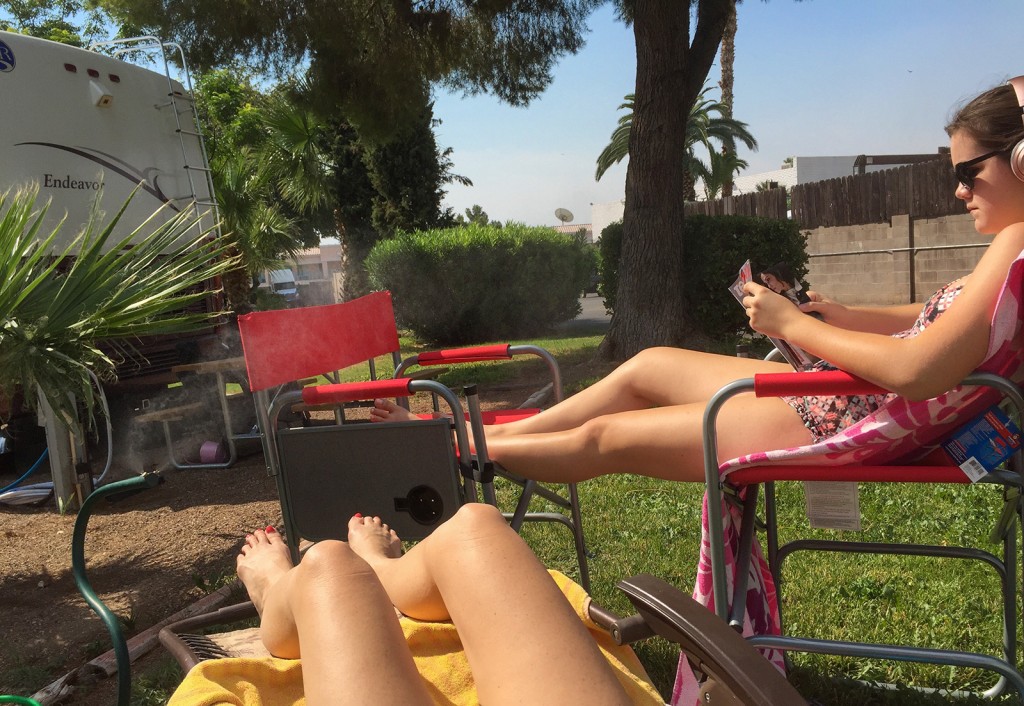 Lawn chairs, misters, headphones and a magazine = the perfect teenager day!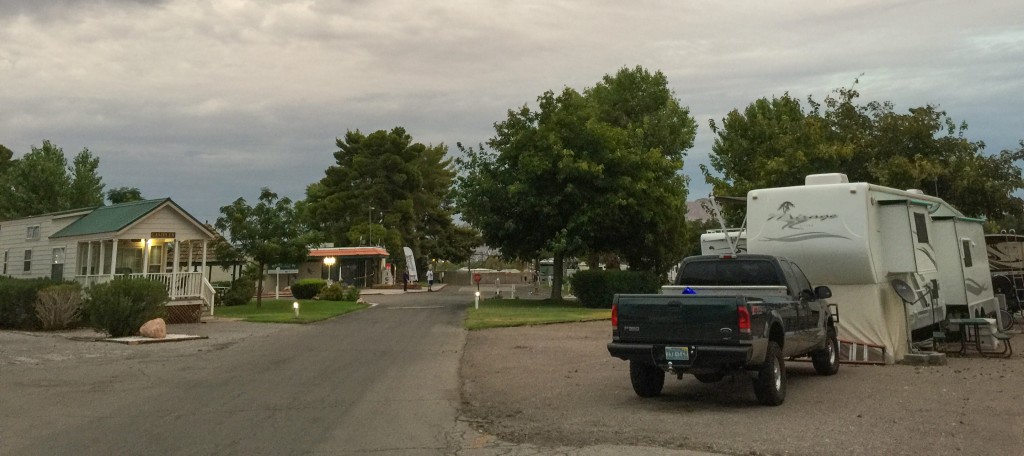 Thousand Trails RV Park in Las Vegas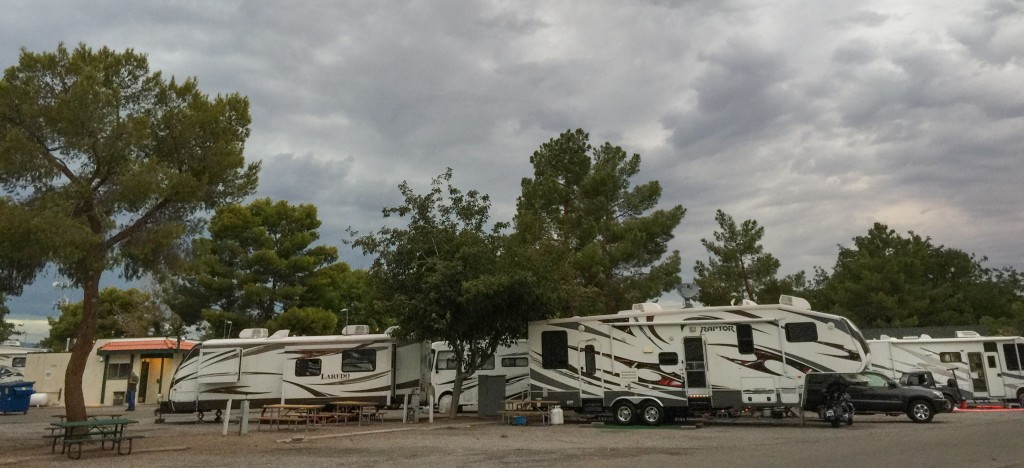 Some trees and shady spots throughout the Thousand Trails park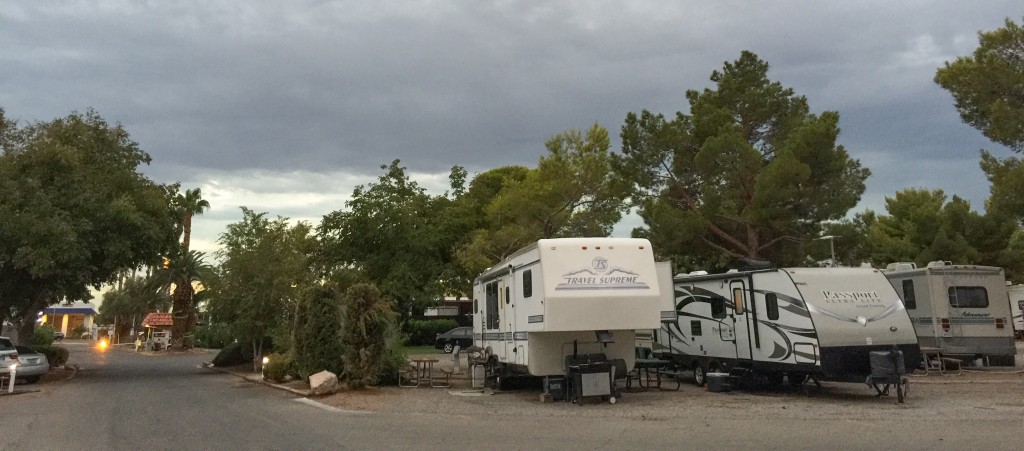 Entrance lined with palm trees and more trailers