Beware of furry hitchhikers roaming the rowdy streets of Oatman, AZ!
The town of Oatman is known for their wild burros that roam the streets. Not to be confused with all the erratic "burros" that frequent major highways these days (i.e. those texting road-ragers).
Oatman has quite a bit of history dating back to 1902. The Oatman hotel is the oldest two story building in the Mojave County, has been the set for many movies and in 1915 two miners struck it rich when they found ten million dollars worth of gold.
What was once a booming mining town, is now a charming wild west tourist town, complete with furry and friendly baby burros, shops, restaurants and staged gunfights. But let's be honest, everyone comes to play with the burros!
We visited the rustic town and were immediately greeted by hungry and nosy wild burros that acted very offended that we had no food to give them. We soon learned that throughout the town you can purchase food pellets for them and they will follow you around and love you forever. You're not supposed to feed the babies, but they are so cute you just want to snuggle with them.
We also met a very colorful miner that gave us a personal gold panning experience and shared some amazing stories about how he appeared on the Discovery Channel for gold mining. He had a wonderful story that we found very inspiring and motivating….he was working a dead end job and was unhappy with the direction of his life. One day, he quit and followed his dream to be a gold miner. He moved up to Alaska and starting mining and has been loving every minute of life since. He travels, actively mines and loves meeting new people and we could absolutely relate to his zest for life and adventure.
A near perfect sunset completed our trip to Oatman. The sunset was so incredible that even the burros stopped in the middle of the road to enjoy. An entire herd blocked the tiny, two lane road, making it impossible to leave (luckily, we didn't mind). We snapped some beautiful photos of the sun setting across the red ad orange hills surrounding the town and while we were snapping, the burros decided they wanted to hitch a ride with us. They began sticking their furry little heads inside our windows, presumably looking around for some snacks. The entire herd came to bid us farewell and lick my hair. They really seemed fond of Haley and I and it made for some great photos and memories! It's not everyday you meet a wild burro that wants to be totally trailer too.
On a side note… the roads in to Oatman are narrow and windy and the Totally Trailer Team does not recommend taking your trailer or Class A to the town. There are hotels in the town and camping in neighboring cities of Kingman, Laughlin and Neeldes. What a fun place to enjoy the day, we hope you get a chance to bond with burros too.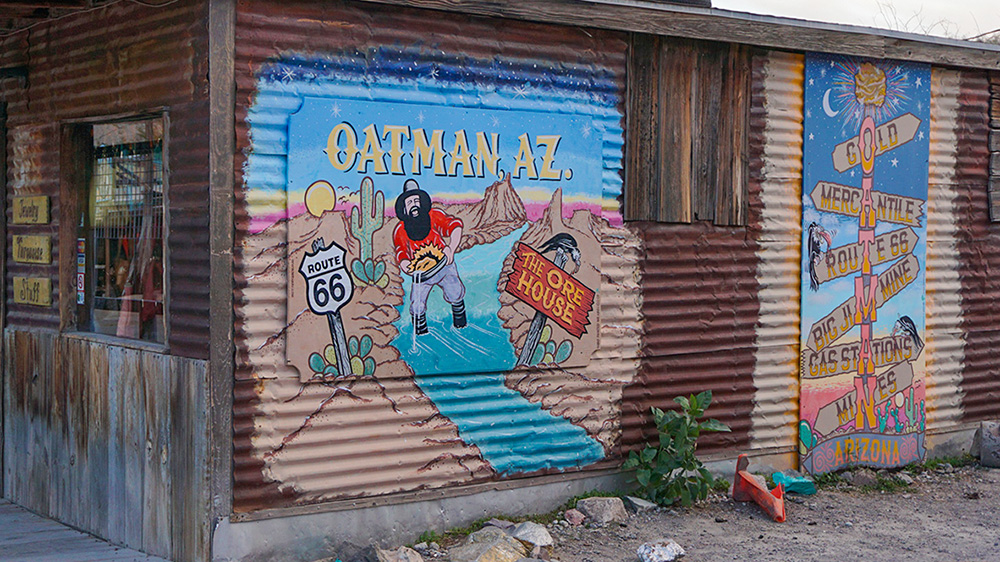 Welcome to Oatman, Az along the historic Route 66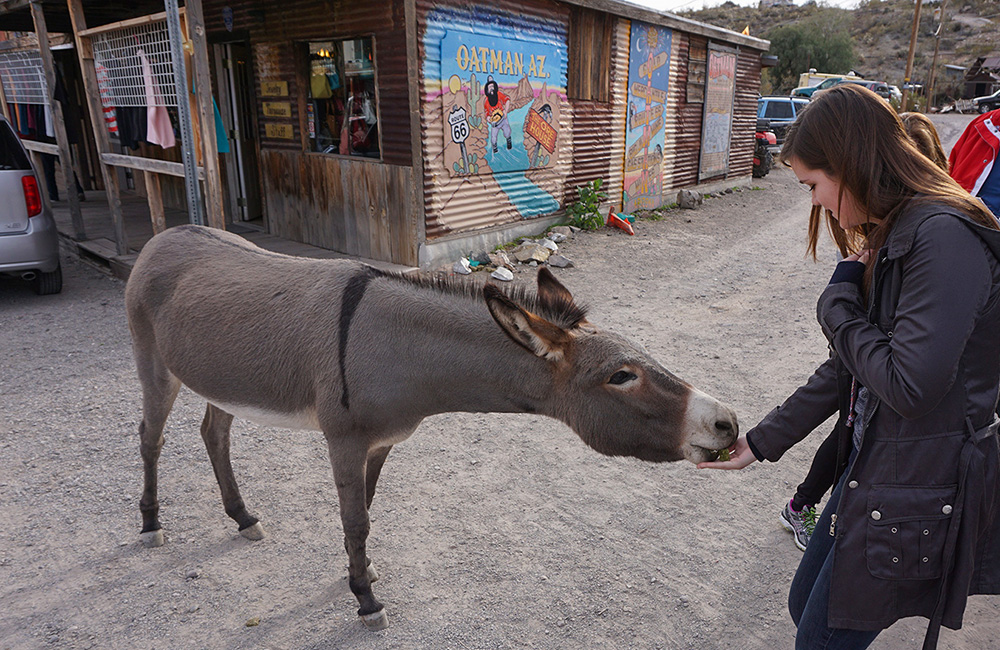 Within minutes of our arrival, little one made a new friend (she's very outgoing you know)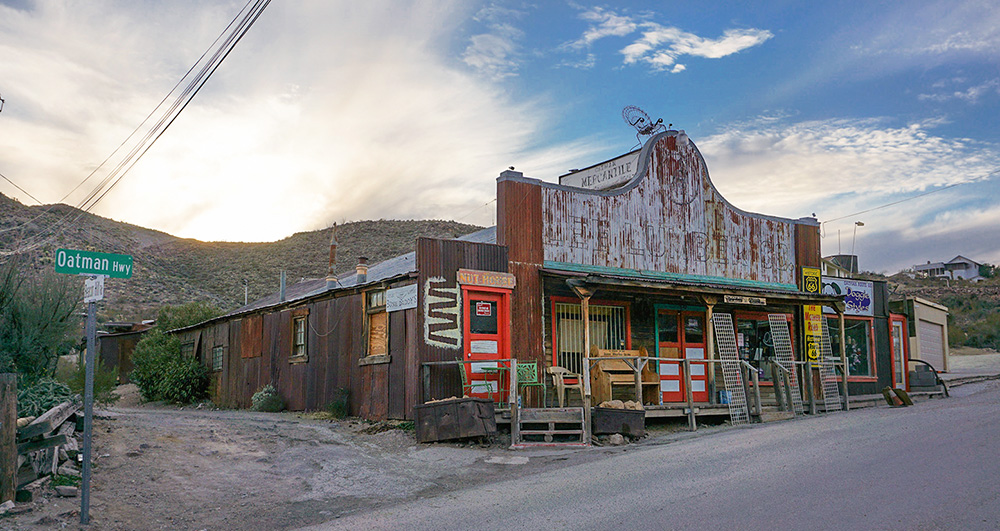 Historic old buildings make Oatman a charming day trip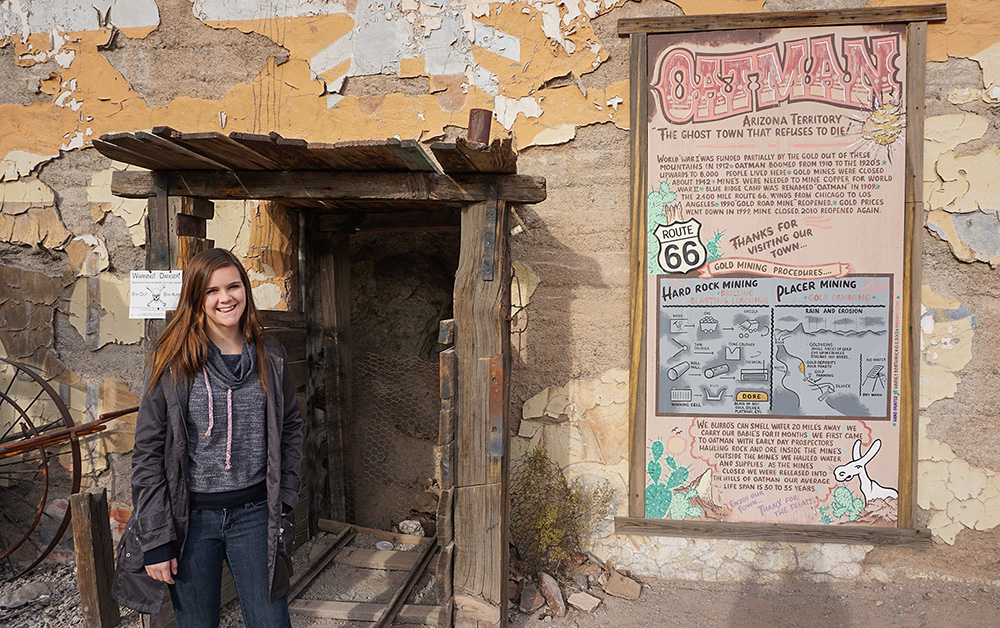 Once an old mining town, Oatman survives on tourists nowadays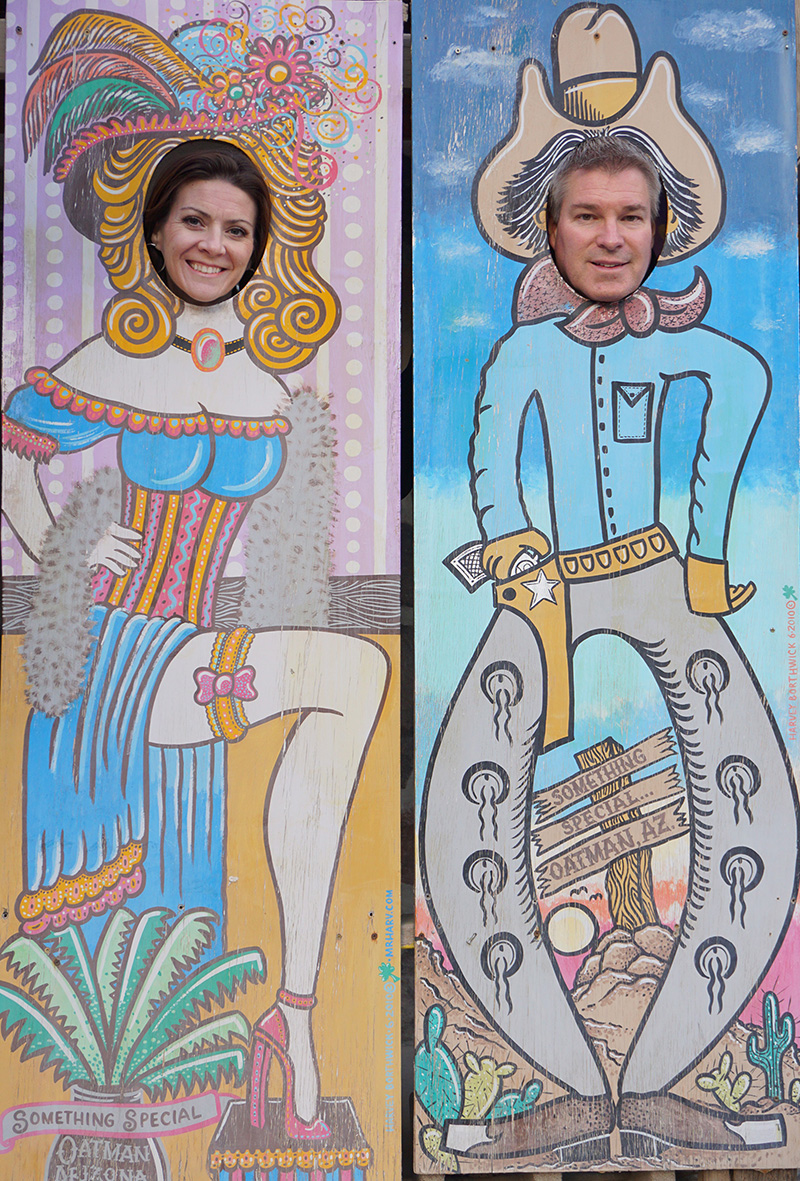 We wore our best clothes to Oatman because we wanted to fit in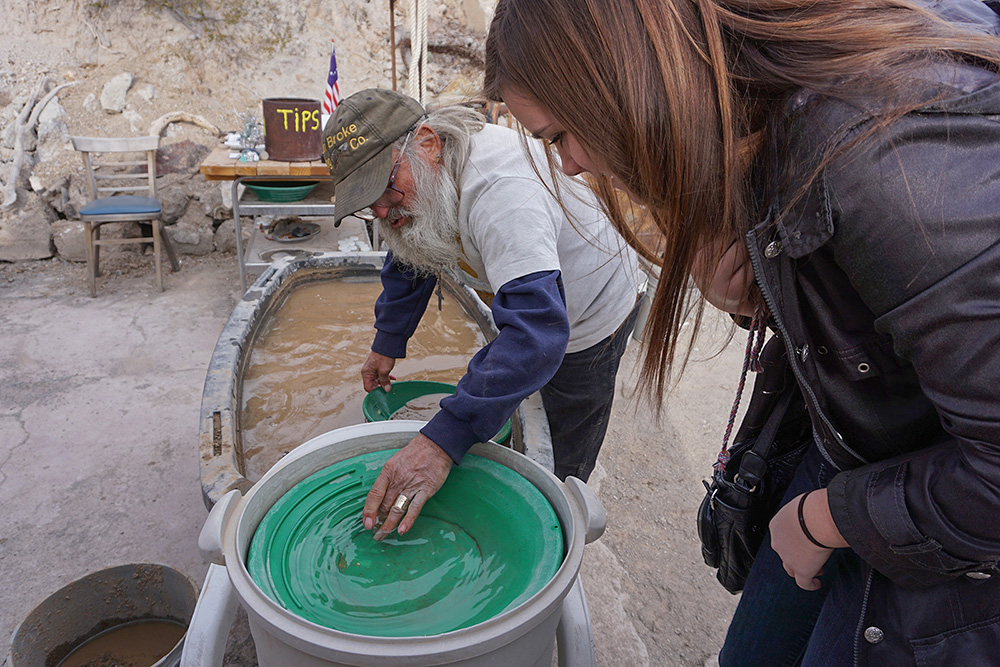 Tips from our inspirational miner friend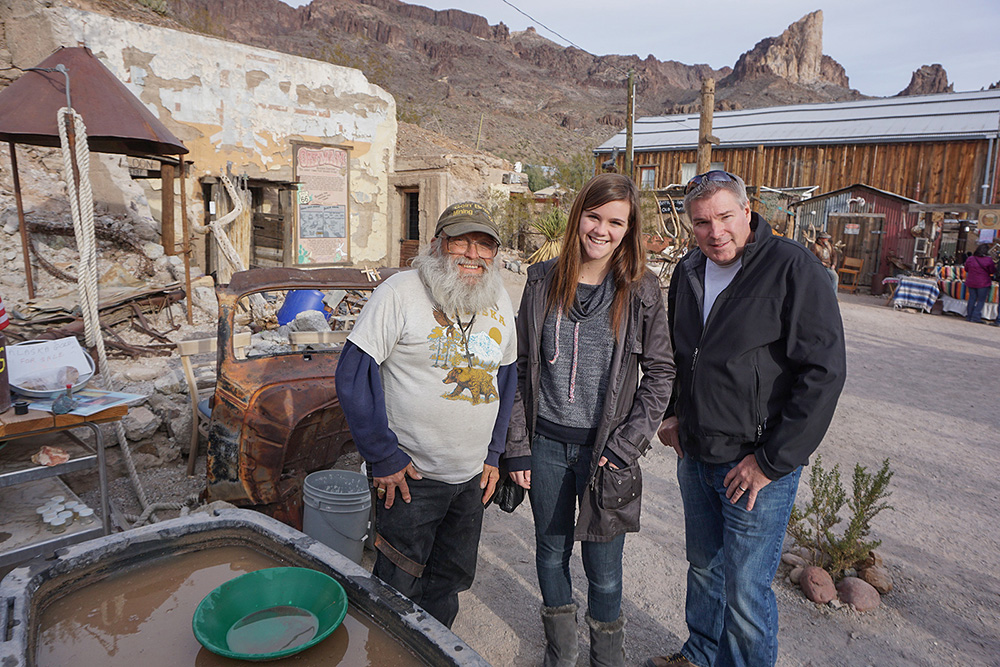 Panning for gold and swapping stories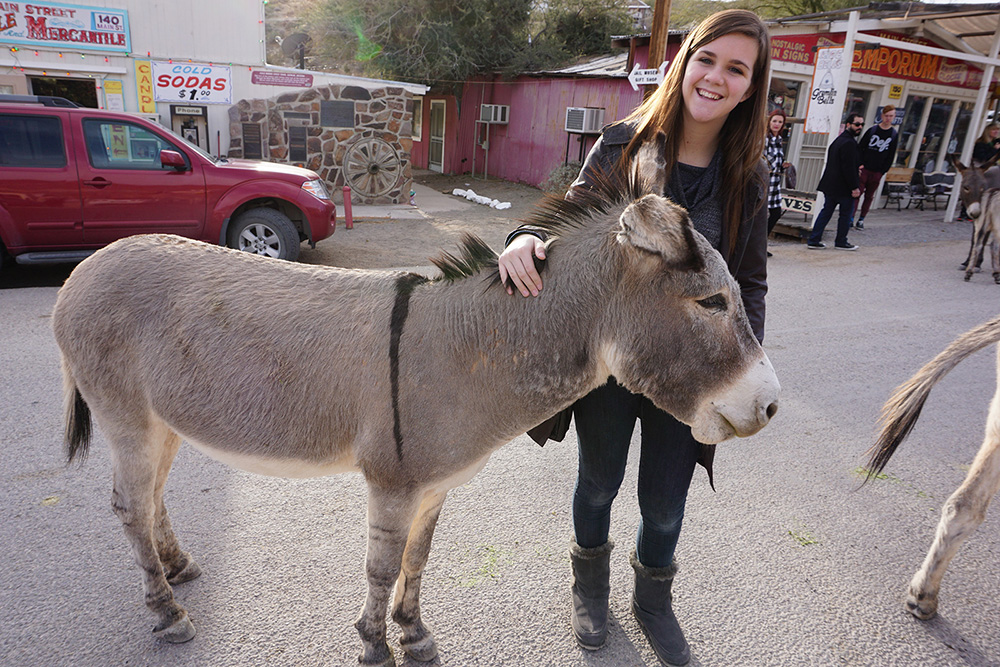 A baby burro and my baby 🙂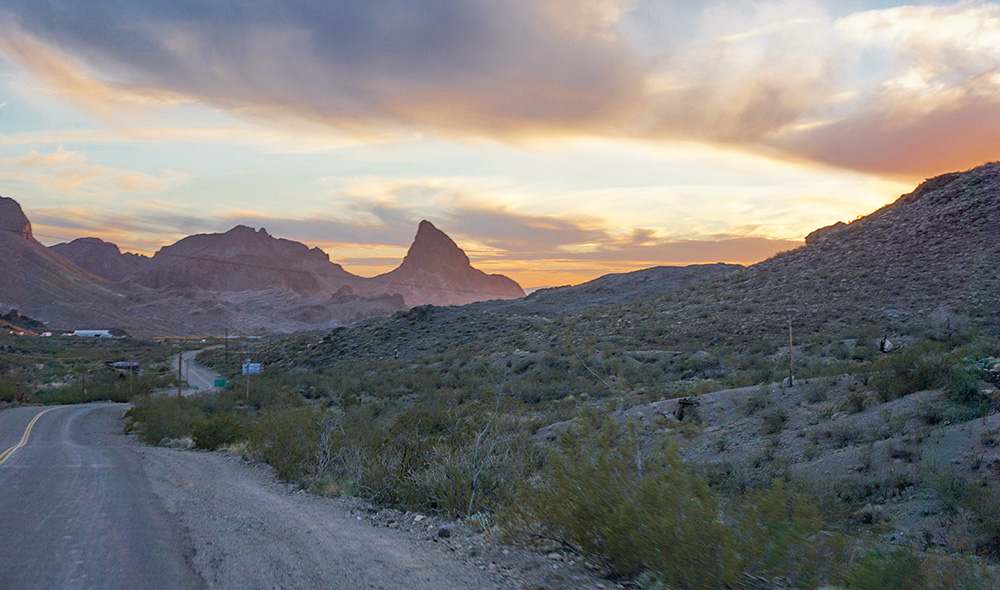 Gorgeous sky over the tall peaks surrounding Oatman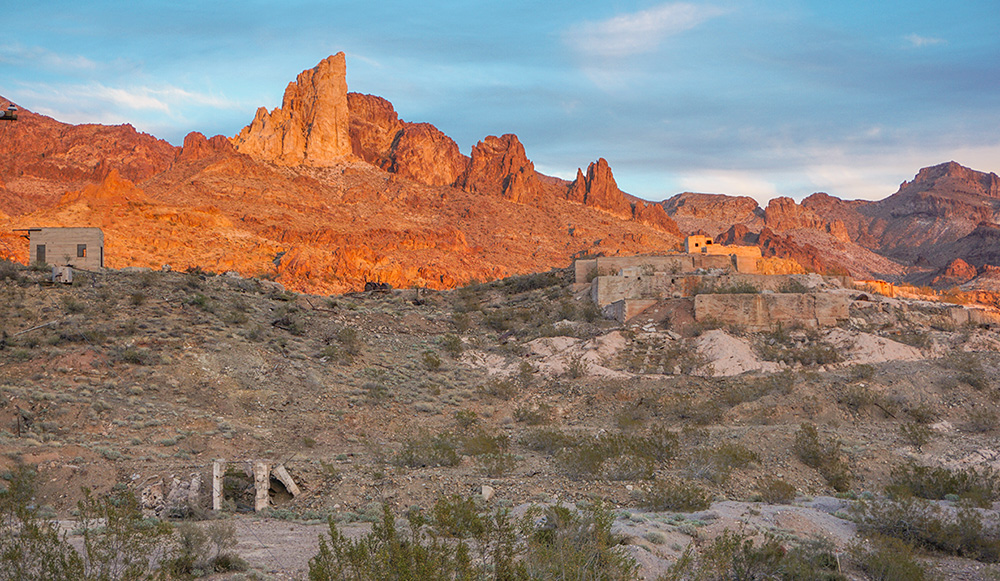 Ghost town remnants framed by iconic Arizona colors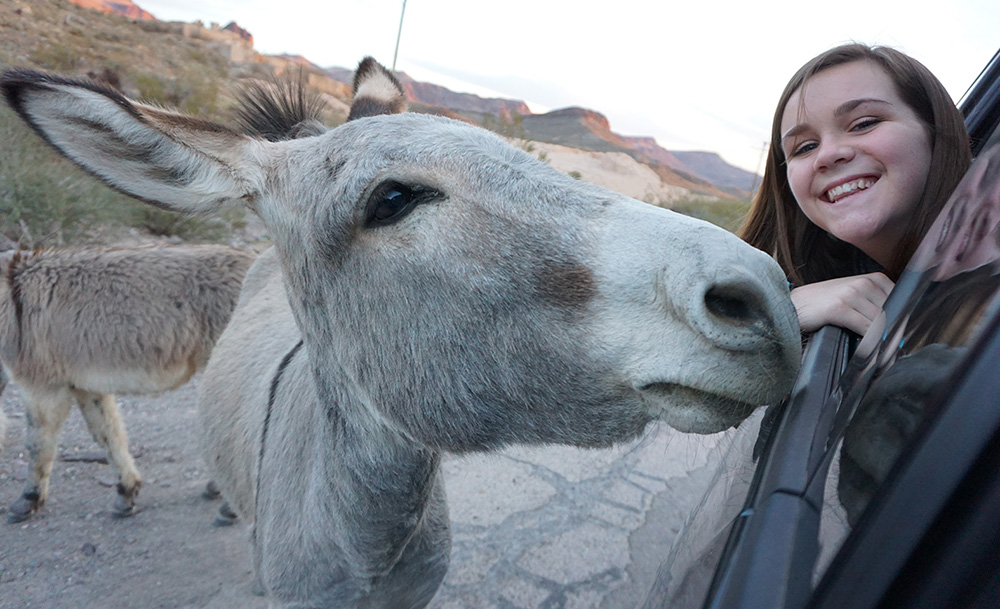 Beware of hitchhikers (they like snacks and long hair)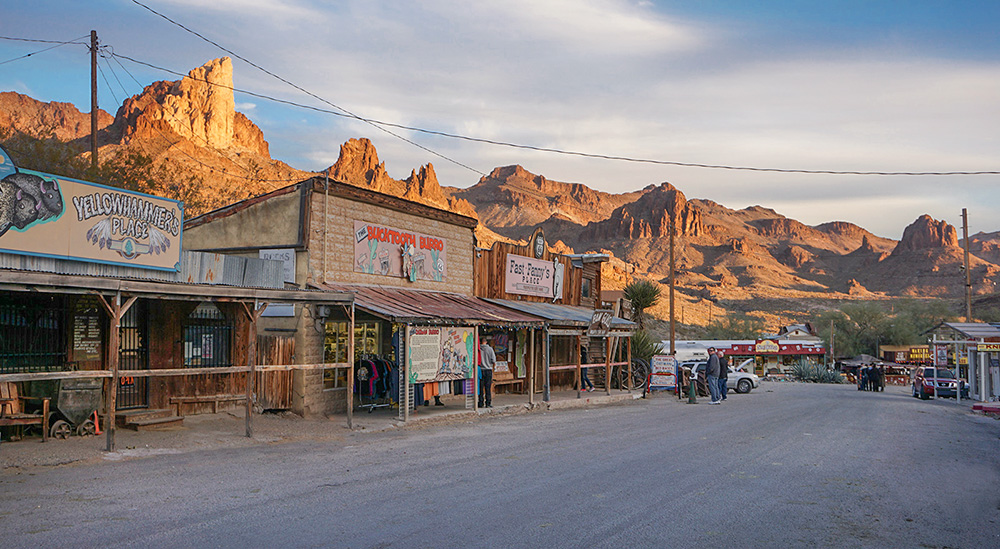 Straight out of the old west, complete with gorgeous surrounding scenery