Hiking trails, kayaking, rock formations, multiple colors and textures, along with sparkling water ways?? We love this place!
Just north of Prescott, Arizona there is a magical place with a spherical-like shoreline and tiny islands that beckon to be photographed. The deep blue water, green foliage and brown boulders of Watson Lake's Granite Dells, create a feast for the eyes as well as a natural outdoor playground.
This unique geological formation eroded into unusually lumpy, rippled and stained boulders that are surrounded by two man-made reservoirs (Watson and Willow Lake).The entire area is an outdoor enthusiast's dream playground! The Granite Dells are surrounded by hiking and biking trails, picnic ramadas, BBQ's, horse shoe pits, bouldering and rock climbing, kayaking, canoeing, fishing, migratory birds and seasonal camping.
From biking, bouldering or just taking in the view, Watson Lake is sure to impress. The panoramic view from above the lake is just as photogenic and the shoreline below. Walking the shoreline and clamoring over boulders at the water's edge you can see many semi-submerged boulders that look like hippos lounging in the lake. The water is so calm that the reflections of the boulders dance across the water. The only movement is an occasional breeze or a flock of birds landing in the middle of the lake.
Visiting the Granite Dells could take you hours or days to explore. You can see the view from the upper parking lot in the comfort of your car, take a leisurely kayak through the reservoir, scale one of the boulders or take one of the many trails around the park.
Since we were visiting during winter, we did not have the option to kayak or camp, but we did spend the day exploring the shoreline, climbing boulders and taking many pictures of this geological wonder.
At an elevation of about 5,150 feet, the Granite Dells get snow and the Prescott area is known for their true four season climate. Whether the boulders are basking in sunlight or dusted with snow, Watson Lake is breathtaking any time of the year!
During summer months the city of Prescott has 19 dry camping spaces to camp at the Granite Dells park. For Rv's, trailers and other lodging, the Totally Trailer Trio recommends staying in Prescott or nearby Verde Valley.
Happy bouldering, hiking or exploring!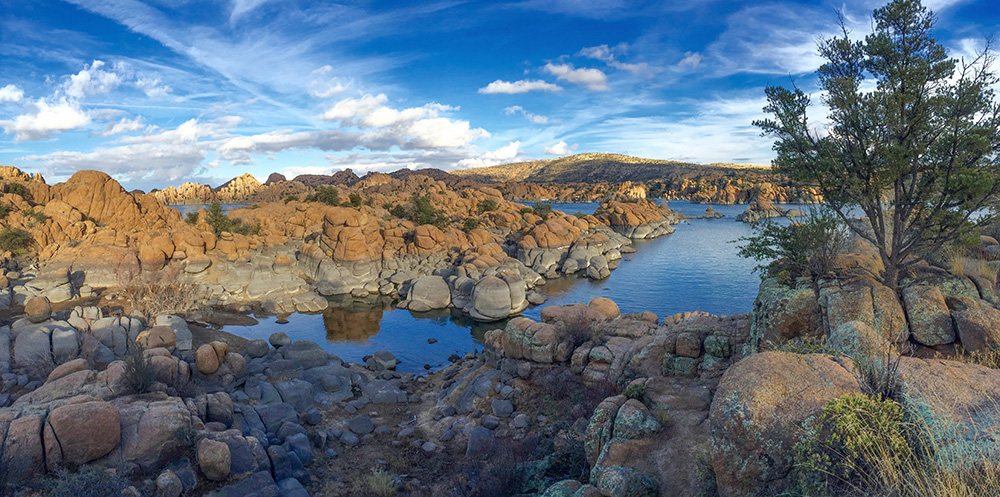 Gorgeous panoramic view at Watson Lake's Granite Dells

Looking out over the photogenic Granite Dells in Prescott, AZ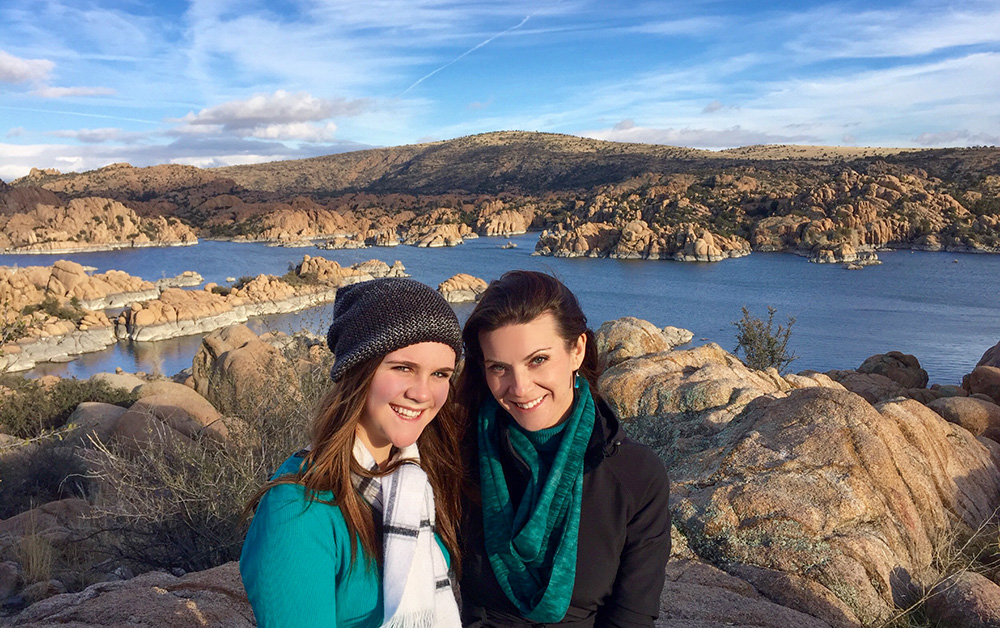 It was cold, but so worth the visit to Watson Lake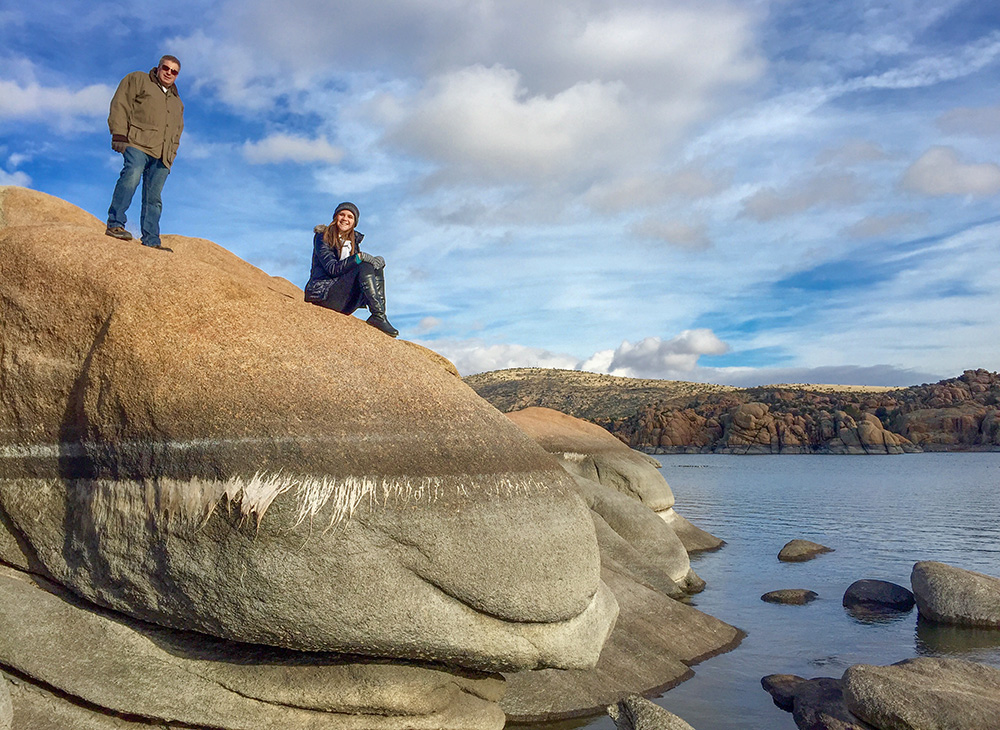 Hubby and little one taking a break on a water front boulder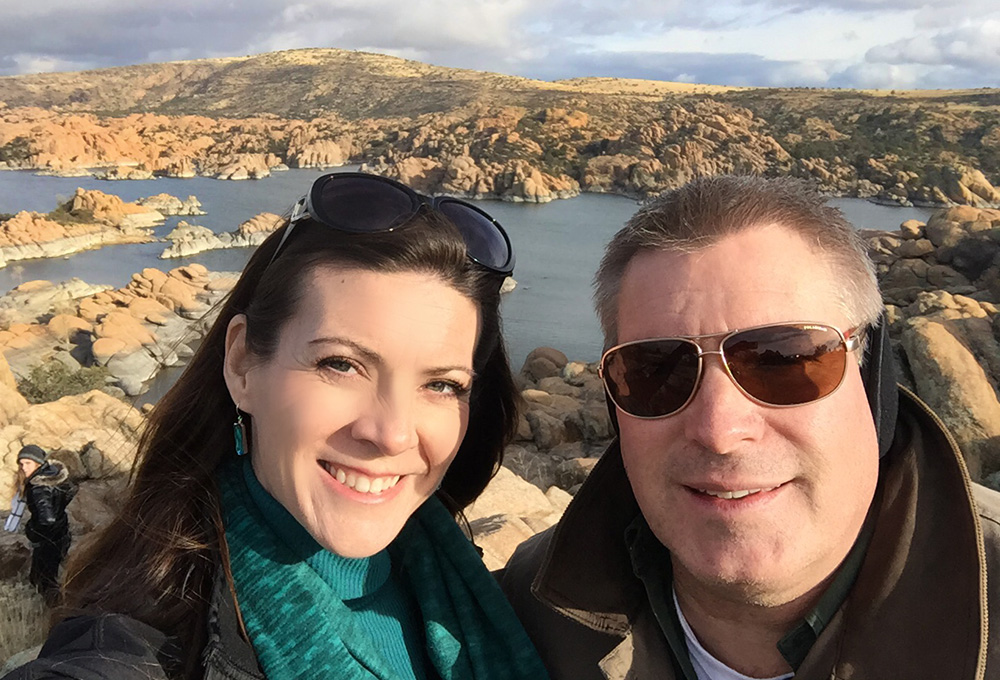 Granite Dells selfie (complete with photobomb)